News > Idaho
Mobile clinic to cut many visits
Thu., March 17, 2005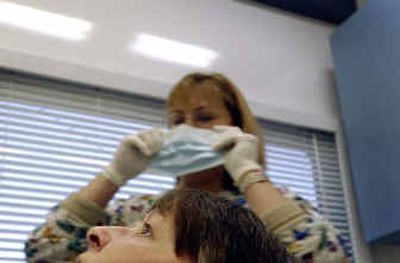 Boundary County residents soon will see much more of the North Idaho Partners in Health mobile clinic than they have in the past three years, but the clinic on wheels will cut most of its visits to Shoshone, Kootenai and Benewah counties.
The new schedule is part of a plan to keep the clinic running after the federal grant that launched it in 2002 runs out next month. North Idaho's three federally funded community health clinics will share responsibility for the mobile clinic. The Panhandle Health District manages it now.
"We worry about cutting back visits. In all five northern counties, there's a need," said Lora Whalen, who directs the health district's family and community health division. "But it'll still be on the road and the services will be available."
The mobile clinic, which resembles a bloodmobile, travels throughout North Idaho offering basic medical care and dental hygiene to people in rural areas on tight budgets or without health insurance. People pay from nothing to $25 for a nurse practitioner to listen to their lungs or examine their infected ears. They pay the same for a dental hygienist to clean and check their teeth.
More than 2,500 people have used the clinic's services since July 2003. Many of those received flu vaccines and immunizations.
The mobile clinic was part of a growing movement in North Idaho to get health care to uninsured people on limited incomes. Benewah Medical and Wellness Center in Plummer offered care but only within a certain geographic range. The Dirne Health Clinic in Coeur d'Alene was open to anyone three days a week. Boundary Regional Community Health Center in Bonners Ferry had just opened. And a volunteer-run clinic was operating in Kellogg.
A year ago, a federal grant enabled the Dirne Clinic to expand its hours and reach more people.
People flocked to the mobile clinic mostly for its dental hygienist. Medical care was hard for patients to plan on the mobile clinic's schedule. But dental care for low-income families in the Panhandle is hard to find and always in need.
The community clinics agreed to take over the mobile clinic after its grant ran out because they all serve the same population. Andrew Bolton, director of the Boundary clinic, offered to manage and maintain the mobile clinic. It'll serve mostly Boundary and Bonner counties and cost about $180,000 a year, much of which Bolton said he'll carve from his health center's budget.
"Boundary County has a substantial migrant population and the mobile clinic has been a major resource for them," Bolton said. "It's been a very central part of our operations."
Boundary's clinic offers limited dental care, but it's not enough, Bolton said.
"We have a full-time dentist and a half-time hygienist and they're booked well in advance," he said. "We still see a need for the mobile services."
Kootenai, Benewah and Shoshone counties had to balance need with affordability. Clinics or hospitals in those counties will be responsible for staffing the mobile clinic when it's in their area.
Benewah's clinic offers dental services, so it cut mobile clinic visits to one per month. The mobile clinic will stop in St. Maries.
The Dirne Clinic is raising money to start dental services. Until it does, about a dozen dentists in Kootenai County have agreed to accept vouchers from Dirne patients for low-cost dental treatment. Dirne cut the mobile clinic's visits from three to one per month.
Shoshone residents don't use the mobile clinic much for medical attention, said Gary Moore, Shoshone Medical Center chief executive officer. But they do need the dental services, he said. Still, the mobile clinic's fewer visits to Kootenai and Benewah counties will mean fewer visits to nearby Shoshone. The clinic will stop once per month in Shoshone after April rather than three or four times a month as it does now.
Moore isn't too worried about the new schedule.
"Dental is the highest need and the least addressed," he said. "We're hoping the clinic will do screening in the grade schools. We'll give it a year, see how it goes."
Local journalism is essential.
Give directly to The Spokesman-Review's Northwest Passages community forums series -- which helps to offset the costs of several reporter and editor positions at the newspaper -- by using the easy options below. Gifts processed in this system are not tax deductible, but are predominately used to help meet the local financial requirements needed to receive national matching-grant funds.
Subscribe now to get breaking news alerts in your email inbox
Get breaking news delivered to your inbox as it happens.
---