Sports
Norway's Sorlie wins second Iditarod race in three years
Thu., March 17, 2005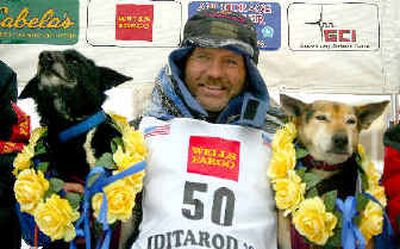 NOME, Alaska – Norway's Robert Sorlie won the Iditarod on Wednesday, overcoming insomnia and a dwindling dog team for his second victory in three tries.
Sorlie, a 47-year-old firefighter, crossed under the arch that serves as the finish line at 8:39 a.m., winning the 1,100-mile race across Alaska in nine days, 18 hours, 39 minutes and 31 seconds.
"It feels good," Sorlie said. "I am ready for breakfast."
Sorlie finished the race with eight dogs – half the number he started the race with, but the same number that took him to victory two years ago.
Sorlie is a three-time champion of Norway's premier long-distance sled dog race, the 600-mile Finnmarkslopet.
This year's run was the third time Sorlie had made the 1,100-mile trip from Anchorage to Nome, a town of 3,500 at the edge of the frozen Bering Sea. In his first showing, in 2002, he finished ninth. He won the race in 2003.
Sorlie is the second Iditarod winner born outside the United States and the second person who didn't make his home in Alaska to win. Doug Swingley of Lincoln, Mont., won four times and Martin Buser, a Swiss native who has lived in Alaska more than two decades, became a U.S. citizen after winning his fourth Iditarod in 2002.
For winning the 33rd Iditarod, Sorlie will receive $72,066.67 and a pickup truck. Seventy-nine mushers started this year's race, which has a total purse of $750,000.
Ed Iten finished second, about 35 minutes behind Sorlie. His previous best finish was fifth in 2004.
Thirteen mushers dropped out during the race. Legally blind rookie Rachael Scdoris of Bend, Ore., was at the back of the pack, accompanied by Paul Ellering, a former professional wrestler and former Iditarod competitor who is serving as Scdoris' "visual interpreter."
Local journalism is essential.
Give directly to The Spokesman-Review's Northwest Passages community forums series -- which helps to offset the costs of several reporter and editor positions at the newspaper -- by using the easy options below. Gifts processed in this system are not tax deductible, but are predominately used to help meet the local financial requirements needed to receive national matching-grant funds.
Subscribe to the sports newsletter
Get the day's top sports headlines and breaking news delivered to your inbox by subscribing here.
---