News > Nation/World
Oil drilling in Alaska refuge moves step closer to reality
Thu., March 17, 2005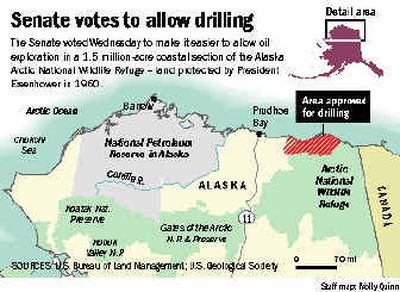 WASHINGTON – By the barest margin, the Senate on Wednesday made it easier for Congress to approve oil exploration in an Alaskan wildlife refuge, marking a turning point in a decades-long fight between environmentalists and the petroleum industry.
Voting 51-49, the Republican-controlled Senate rejected efforts by Democrats and moderates to strip a provision from the Senate budget resolution that would allow drilling in the Arctic National Wildlife Refuge. The vote gave a big victory to President Bush and also helped clear the way for broader energy legislation that he seeks.
The budget provision would permit any refuge-drilling legislation later this year to be approved by a simple 51-vote Senate majority. It would prevent opponents from using Senate rules, as they have in the past, to require a 60-vote super-majority on the question. Still, several legislative obstacles remain, and even if they are overcome, oil production is not expected to begin for perhaps 10 years.
At issue is the 1.5 million-acre coastal plain region of the 19 million-acre wildlife refuge that the U.S. Geological Survey estimates could contain 5.7 billion to 16 billion barrels of crude oil. The area lies in the path of migrating caribou herds.
Its environmentally sensitive location and its vast oil reserves have made it ground zero for years in a broader struggle between environmentalists and advocates of expanded commercial use of federal lands.
"I'm trying to smile again," said Sen. Ted Stevens, R-Alaska, who has fought hard for decades to open the refuge, commonly known as ANWR, to drilling.
Moments earlier, sporting the Incredible Hulk tie he often wears for legislative confrontations, Stevens declared that a vote to strip the drilling provision from the budget "is a vote for increasing home heating bills and transportation costs. It's a vote to diminish our national security by relying on rogue nations, foreign nations, unstable regimes."
Advocates cited rising gasoline prices and foreign oil dependence as evidence that greater domestic oil production is essential. But their arguments were less decisive than the Republicans' strengthened Senate majority; they gained four seats in November and now hold 55 of 100 seats.
"It's a dispiriting day," said Sen. Joseph Lieberman, D-Conn., a drilling opponent.
Opposition to the oil-drilling provision was led by Sen. John Kerry of Massachusetts, the 2004 Democratic presidential candidate, and Sen. Maria Cantwell, D-Wash.
The vote came as the price of oil reached a record high of more than $56 a barrel, prompting President Bush to complain.
"I am concerned about the price of energy," he said at a news conference. "I'm concerned about what it means to the average American family when they see the price of gasoline going up. I think if you look at all the statistics, demand is outracing supply and supplies are getting tight. And that's why you're seeing the price reflected."
Environmentalists and a lobbying consortium of oil companies called Arctic Power have spent millions of dollars fighting each other over drilling in the Alaskan wildlife refuge. Advocates of drilling cite the potential for up to a million barrels of oil a day flowing from the refuge to ease U.S. dependence on oil from the volatile Middle East. Critics say it would damage the fragile ecology and disrupt the region's caribou.
Some analysts say both sides exaggerate the stakes.
"It's not a big environmental hit, and it's not a big energy hit," said Henry Lee, an environment and energy expert at Harvard University. "What's at stake is much less than what either side is willing to tell you."
Lee noted that oil prices would hardly be affected by the projected oil production. At the same time, he noted that technological improvements that allow horizontal drilling below the surface would limit environmental damage.
Advocates say that the affected area would amount to about 2,000 acres – "a small postage stamp of land," as Sen. Judd Gregg, R-N.H., put it.
The drilling provision's fate is tied to the success of the budget resolution, which may yet fail. Internal disputes among Republicans over spending and deficits threaten to derail it. What's more, the House of Representatives did not include ANWR language in its version, which means that ANWR terms would have to be reconciled in a House and Senate conference.
Local journalism is essential.
Give directly to The Spokesman-Review's Northwest Passages community forums series -- which helps to offset the costs of several reporter and editor positions at the newspaper -- by using the easy options below. Gifts processed in this system are not tax deductible, but are predominately used to help meet the local financial requirements needed to receive national matching-grant funds.
Subscribe now to get breaking news alerts in your email inbox
Get breaking news delivered to your inbox as it happens.
---