News > Nation/World
Peterson gets death for killing wife, unborn son
Thu., March 17, 2005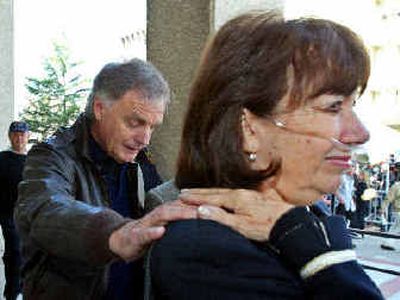 REDWOOD CITY, Calif. – Judge Alfred Delucchi sentenced Scott Lee Peterson on Wednesday morning to pay with his life for murdering his pregnant wife Laci.
Peterson, sitting straight in his chair, stared straight ahead as Delucchi sentenced him to die by lethal injection.
In front of a packed courtroom, that included most of the jurors who had returned to observe, the judge had earlier rejected a defense motion for a new trial and said he intended to uphold the jury's recommendation for death.
He termed Peterson's murder of his wife, Laci, and unborn son "cruel, uncaring, heartless and callous … ."
"The young boy Conner wasn't even permitted to take a breath of air on this earth," the judge said.
Before the judge formally imposed the sentence, it was time for family members to speak, and they ripped into Peterson and begged for answers.
All described him as a selfish, arrogant, heartless and cowardly man. All looked directly at Peterson who, dressed in a dark suit, face pale, hands shackled to a waist chain, stared blankly back.
Peterson's parents, Lee and Jackie, were not permitted to speak. Scott Peterson declined an opportunity to address the court.
Brent Rocha, Laci's brother, asked: "You have no idea of what we've gone through … Why did you have to kill? Did you really hate Laci and Conner that much?" He blasted Peterson for his "rich kid" persona that he said he adopted to make himself feel better.
"Liar!" Lee Peterson shouted from the audience.
Peterson's father soon got up and was escorted out by deputies. Jackie Peterson walked out soon thereafter.
Rocha told the court he had known since Jan. 4, 2003, that Scott was guilty and even bought a gun.
"I chose not to kill you myself for one reason, so that you would have to sweat it out …"
Sharon Rocha, Laci's mother, let her emotion spill freely when it was her turn to address her son-in-law.
"Scott you made a conscious decision to murder Laci and Conner," she said. "You planned and executed their murders."
At that point, Peterson made his only response of the day, and shook his head. It prompted a response from Rocha: "Yes, you did … You're stupid to think you could get away with murder."
Scott, she said, thought he would get away with the crime because he "equated a small town with a small mind …
"You're selfish, heartless, spoiled, self-centered, and you are a coward … but above all you are an evil murderer," she said. "You murdered your own baby, you're a baby killer."
Some jurors said they felt a sense of closure.
"I think what the judge did today clearly says we did the right thing," said juror Michael Belmessieri.
"I thought Scott looked like he was going to get to go home, maybe getting a new trial," he said. "Guess what, Scotty? San Quentin's your new home," juror Richelle Nice said.
The Peterson case was national news from the beginning. The missing person case quickly took on a life of its own when pictures of a beaming and photogenic Laci – eight months pregnant with the couple's first child – hit the airwaves on Christmas Eve 2002.
Suspicions soon settled on Scott Peterson, a fertilizer salesman, who repeatedly denied he had anything to do with his wife's disappearance. Peterson told police he was fishing alone on San Francisco Bay that Christmas Eve day in his recently purchased 14-foot boat.
It would be almost four months before police would get their major break in the case. In April 2003, four months after Laci Peterson's disappearance, several dog walkers found human remains on the Richmond shoreline. The body of a baby was found April 13, the torso of a woman on April 14.
DNA testing confirmed what many already assumed: the decomposing corpses were those of Laci and the baby, a boy who the couple had planned to name Conner.
Local journalism is essential.
Give directly to The Spokesman-Review's Northwest Passages community forums series -- which helps to offset the costs of several reporter and editor positions at the newspaper -- by using the easy options below. Gifts processed in this system are not tax deductible, but are predominately used to help meet the local financial requirements needed to receive national matching-grant funds.
Subscribe now to get breaking news alerts in your email inbox
Get breaking news delivered to your inbox as it happens.
---