News > Spokane
Report says Navy sonar likely caused orcas to flee
Thu., March 17, 2005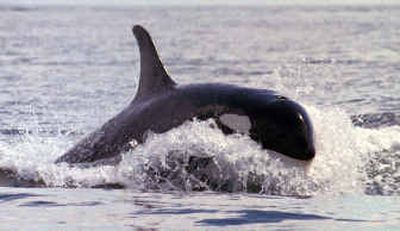 SEATTLE – Sonar pulsing from a Navy guided-missile destroyer during training exercises near the San Juan Islands two years ago was likely loud enough to send killer whales fleeing, according to a recent report from the National Marine Fisheries Service.
The report backed up local orca experts who said sonar from the USS Shoup caused a group of orcas to behave abnormally, apparently trying to avoid the sound.
That contradicts the Navy's previous findings that orcas in Puget Sound's J Pod seemed unaffected by the sonar coming from the Shoup on May 5, 2003.
Cmdr. Karen Sellers, the Navy's spokeswoman for the Northwest, acknowledged that the Shoup's sonar signals were the "dominant noise event" experienced by the orcas that day, but said the Navy maintains that the "biological significance" was minimal, The Sun newspaper reported Wednesday.
NFMS' 10-page report, dated Jan. 21 but not released publicly until March 10, said the Shoup's sonar was not loud enough to cause the whales any temporary or permanent hearing damage.
Ken Balcomb of the Friday Harbor-based Center for Whale Research questioned the report's focus on hearing damage.
"It's like it's an industrial job problem – disregarding the observed fact that these animals are fleeing from sources of sound," Balcomb said. "They are trying to get away, and they are stranding and dying. It is irrelevant whether they had hearing loss if they are dead."
Federal researchers have linked currently used sonar systems to whale deaths in the Bahamas in 2000.
Puget Sound's orca population has been proposed for listing under the federal Endangered Species Act. NMFS already is working on a recovery plan, including ways to protect the whales from harmful noise.
Marine mammal researchers have also expressed concern about 15 harbor porpoises found dead in northern Puget Sound in spring 2003, around the same time as the Shoup incident.
Sellers said the Navy stands by its conclusions that those deaths were not related to sonar. Necropsy results on 11 of the harbor porpoises found no evidence to prove – or disprove – that acoustic trauma was a factor in the deaths.
The report NMFS released last week said scientists found no signs that the porpoises' ears suffered any acoustical trauma, although post-mortem decomposition hindered researchers' analysis of the animals' tissue.
Local journalism is essential.
Give directly to The Spokesman-Review's Northwest Passages community forums series -- which helps to offset the costs of several reporter and editor positions at the newspaper -- by using the easy options below. Gifts processed in this system are not tax deductible, but are predominately used to help meet the local financial requirements needed to receive national matching-grant funds.
Subscribe now to get breaking news alerts in your email inbox
Get breaking news delivered to your inbox as it happens.
---