News > Business
RIM ends Blackberry suit, pays $450 million
Thu., March 17, 2005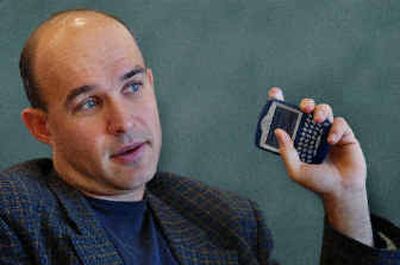 NEW YORK — Shares of Canadian tech standout Research In Motion Ltd. soared Wednesday after the maker of the ubiquitous Blackberry wireless e-mail devices said it would pay $450 million to settle a patent infringement suit.
The payout to NTP Inc., a Virginia company, ends a drawn-out legal battle in which Canada's government had even interceded after U.S. courts had favored the plaintiff. The settlement should make it easier for Research in Motion to license its technology for use in other mobile devices.
Under the agreement, NTP grants Research in Motion, or RIM, the right to continue its BlackBerry-related business without further interference from NTP or its patents.
Research in Motion's U.S. shares jumped $12.64, or 18.84 percent, to $79.73 in afternoon trading on the Nasdaq Stock Market. Its shares have traded in a range of $41.55 and $103.56 over the past 52 weeks.
The company may have settled, in part, because it did not want its competitor Good Technology to win more customers, said analyst Todd Kort. He said Research in Motion can easily afford the settlement, as it has $1.5 billion in the bank.
Good signed a licensing deal with NTP last week.
Unlike Research in Motion, which has restricted its technology to Blackberry products, some of which also double as cell phones, Good has let its customers choose among wireless devices, such as PalmOne's Treo line.
NTP is a patent holding company that has no products, confirmed James H. Wallace Jr., a lawyer for Arlington, Va.-based NTP.
"The company is a bunch of lawyers who have bought a bunch of patents and now they're going around trying to collect royalties," Kort said.
Research in Motion had lost a number of rounds in the suit and that made potential customers nervous, Kort said. "Lots of them were hesitant to license the technology because of threat of lawsuits," he said.
Research in Motion refused to comment in detail on the settlement, saying it would not disclose more until the company's fourth-quarter conference call in April.
Local journalism is essential.
Give directly to The Spokesman-Review's Northwest Passages community forums series -- which helps to offset the costs of several reporter and editor positions at the newspaper -- by using the easy options below. Gifts processed in this system are not tax deductible, but are predominately used to help meet the local financial requirements needed to receive national matching-grant funds.
Subscribe now to get breaking news alerts in your email inbox
Get breaking news delivered to your inbox as it happens.
---