News > Nation/World
U.S. must accept threat of terrorism, Chertoff says
Thu., March 17, 2005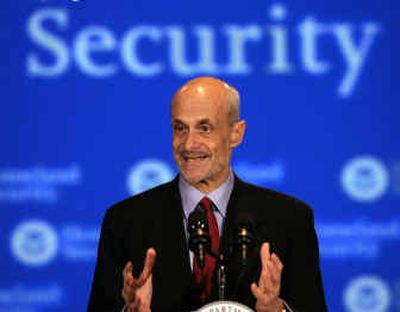 WASHINGTON – New Homeland Security Secretary Michael Chertoff asked the public Wednesday to learn to live with the long-term risks of terrorism as he pledged to do a better job assessing that danger.
"We win the war against terror by rejecting terror as a tool of intimidation, and we triumph when we take account of real risks and threats but do not become hypersensitive or overly responsive to them," Chertoff said in his first major speech since taking over the huge 2-year-old department.
He offered no direct criticism of his predecessor, Tom Ridge, or of the color-coded terrorism alert system that became a staple for late-night comedians. But he told an audience at George Washington University that terrorists "seek to exploit psychological vulnerability" and to "control and manipulate our behavior."
He recalled that Winston Churchill, Britain's prime minister during World War II, rallied the citizens of London during German bombing raids with a message of perseverance.
"We want to live mindfully but do not want to live fearfully," Chertoff said, adding that Americans could follow Churchill's exhortation: "We will not flinch or weary of the struggle."
Chertoff said he was launching a top-to-bottom "comprehensive review" of how Homeland Security – a department with 180,000 employees from 22 once-separate agencies – should be organized. The reviewers would make recommendations without regard to "old jurisdictions and old turf," he said.
Critics of the department, including recently departed Inspector General Clark Kent Ervin, say it was slow to get organized under Ridge. Ervin said bad management was hurting hiring and impeding progress in such areas as passport controls and the consolidation of terrorist watch lists.
After his speech, Chertoff said he'd try to "resist the temptation to give information prematurely" on specific threats or to cause unwarranted alarm.
In what Chertoff said was an error, the state of Hawaii posted on its Web site a draft of a Homeland Security Department report on scenarios for terrorist strikes in the United States, from chemical attacks to the plague, with estimates of casualties. The report was removed from the Web page Tuesday. Despite that incident, Chertoff said the department would still share tips with state and local officials.
In his speech, he said that while homeland security may improve, "we cannot pretend that nothing bad can ever happen and that perfect safety is within our reach."
"The American people do understand this, and we have to respect that understanding," he said.
James Carafano, who chaired a task force on homeland security for the Heritage Foundation, a policy research center, described the speech as a "realistic tough-love message" to the public and said it was timely.
"Some of the warnings and messages after 9-11 treated people like children with, 'Don't worry, we'll take care of you,' " Carafano said. "Maybe it's like the Cold War; as this goes on, there's an effort to treat people more like adults."
Local journalism is essential.
Give directly to The Spokesman-Review's Northwest Passages community forums series -- which helps to offset the costs of several reporter and editor positions at the newspaper -- by using the easy options below. Gifts processed in this system are not tax deductible, but are predominately used to help meet the local financial requirements needed to receive national matching-grant funds.
Subscribe now to get breaking news alerts in your email inbox
Get breaking news delivered to your inbox as it happens.
---