News > Business
Wolfowitz named to lead World Bank
Thu., March 17, 2005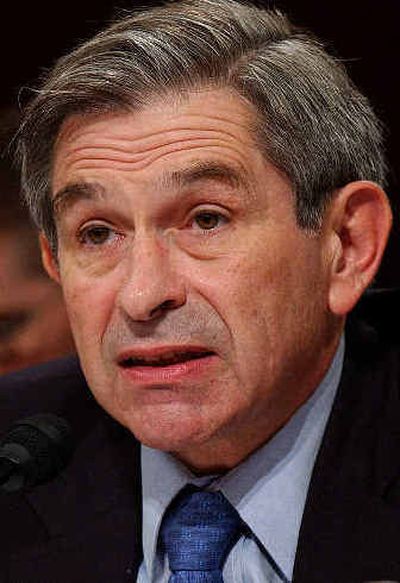 WASHINGTON — President Bush on Wednesday tapped Defense Deputy Secretary Paul Wolfowitz, who has been a lightning rod for criticism of the U.S. invasion of Iraq and other defense policies, to take over as head of the World Bank.
Bush told a news conference that Wolfowitz, now Defense Secretary Donald Rumsfeld's top deputy, was "a compassionate, decent man who will do a fine job at the World Bank. That's why I put him up."
The administration began notifying other countries that Wolfowitz was the U.S. candidate to replace World Bank President James Wolfensohn, who is stepping down as head of the 184-nation development bank on June 1 at the end of his second five-year term.
The United States is the World Bank's largest shareholder in the development bank. The bank traditionally has had an American president.
Wolfowitz, 61, was among the most forceful of those in the Bush administration in arguing that Iraq's Saddam Hussein had weapons of mass destruction, and he had predicted that Americans would be welcomed as liberators rather than occupiers once they toppled Saddam's government.
A conservative scholar and veteran of six administrations, Wolfowitz earned a reputation for being a foreign policy hawk — representing the view that the United States should use its superpower status to push for reforms in other nations.
Local journalism is essential.
Give directly to The Spokesman-Review's Northwest Passages community forums series -- which helps to offset the costs of several reporter and editor positions at the newspaper -- by using the easy options below. Gifts processed in this system are not tax deductible, but are predominately used to help meet the local financial requirements needed to receive national matching-grant funds.
Subscribe now to get breaking news alerts in your email inbox
Get breaking news delivered to your inbox as it happens.
---