News > Idaho
$10,000 in stolen property recovered
Fri., March 18, 2005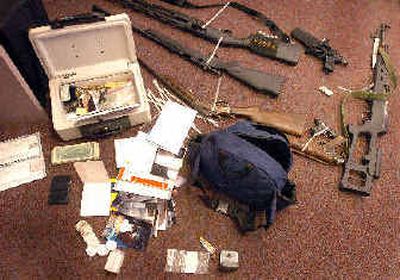 Following a monthlong investigation, the Coeur d'Alene Police Department, with help from the Idaho State Police and the Kootenai County Sheriff's Department, recovered stolen property worth about $10,000 Thursday, solving some burglary cases as old as two years.
Arrested following a search of several homes early Thursday were Jeramiah James Watson, 27, and Billy James Watson, 28, both of Coeur d'Alene. The two were charged with burglary and grand theft, according to the Coeur d'Alene police.
Police executed search warrants at 1208 Stiner Ave., 510 Rose Lane, 7551 Wheatfield, 6225 N. Ace and 6550 N. Ace.
Property recovered included rifles, handguns, vehicle engines, motorcycle parts, furniture, stereo equipment and a four-wheel recreation vehicle. The property was stolen in residential, business and auto burglaries and occurred in Coeur d'Alene, Kootenai County and Bonner County.
Post Falls man faces drug charges in Britain
A Post Falls man suspected of manufacturing the drug ecstasy is standing trial in Great Britain on charges of manufacturing and exportation of a controlled substance.
He also is suspected of operating drug labs here, Sgt. Christie Wood, of the Coeur d'Alene Police Department, wrote in a press release.
The case began in July of 2003 when U.S. Customs intercepted ecstasy coming into the United States to Memphis by FedEx, Wood reported. Coeur d'Alene police say the drug was originally intended to be delivered to an address in Post Falls.
Customs notified the Kootenai County Drug Task Force and a former Post Falls resident was arrested. Police have not released his name because he has not yet been charged in the United States.
About the same time, English authorities had an anonymous tip about a lab in Brighton that was operated by another Idaho man. Police there carried out search warrants for "what was later determined to be one of the largest LSD/synthetic drug lab seizure and dismantle in the history of the United Kingdom," Wood wrote in her press release.
The Kootenai County Drug Task Force assisted the Brighton police in the investigation and an Idaho detective traveled to England in January. He provided court testimony and follow-up information to the Brighton police.
The British investigation led the Kootenai County Drug Task Force to the two inactive, but fully intact lab sites in Post Falls, where officials on Wednesday executed search warrants at 18446 Holland Road and 409 Potlatch Road. They recovered chemicals, lab equipment, a pill press, and hand-written notes and journals on the making of synthetic drugs, Wood wrote.
CdA awarded community development grant
Coeur d'Alene was awarded a $226,235 Idaho Community Development Block Grant this week to help improve traffic flow near the new U.S. Bank call center.
Improved traffic flow will allow for better access to the new 60,000 square-foot center off Seltice Way. Improvements will include additional traffic signals, lanes and street lights.
The new call center will create up to 500 new jobs during the next five years. The bank offers employees a comprehensive benefit package including medical and dental insurance in addition to life, accidental death and disability liability.
"These jobs, along with the improvements this grant will finance, will be a great asset to the community," Gov. Dirk Kempthorne said in a press release.
The call center will support the bank's growing retail payment solutions division, which includes debt, small business and consumer credit card accounts.
CdA Public Library has new director
The Coeur d'Alene Public Library has a new director.
The library trustees recently hired Bette Ammon, the former Missoula Public Library director.
Ammon, who starts April 11, will replace Director Julie Meier, who retired in November after 23 years.
"Bette is highly respected among her peers throughout the local, state and regional library systems," said Ann Smart, Coeur d'Alene Public Library Board of Trustees chairman. "She is passionate about the library's role as a gathering place for all ages and has guided a successful project and program rejuvenation of the Missoula Public Library."
A native of Colorado, Ammon has a bachelor's degree in English and speech from the University of Northern Colorado at Greeley. She has a master's degree in education, library science core study from Idaho State University.
Ammon has worked for the Missoula library since 1990 and previously served as the library's young adult librarian and assistant director. She also has worked for the Pocatello Public Library.
As editor and co-owner of Beyond Basals Inc., Ammon has co-written and published 13 handbooks for young readers. She has presented more than 60 workshops on children's and young adult librarianship, literature, medial literacy and intellectual freedom.
Sewer board has new plant superintendent
The Hayden Area Regional Sewer Board has a new plant superintendent.
Dan Sneed will supervise the wastewater treatment facility and collection system that provides service to more than 17,000 people in Hayden. The plant also services the Hayden Lake Recreational Water and Sewer District and the Coeur d'Alene Airport.
Sneed, who is expected to start next month, is the former utilities director for the city of Lynchburg, Va., where he developed a sanitary sewer overflow reporting system. He has more than 27 years experience and is certified at the highest levels in both water and wastewater treatment in many states including Colorado and Florida.
Sneed also has worked for a private engineering firm as a consultant for water and wastewater projects with assignments in Asia.
Sneed will replace Superintendent Kent Helmer, who is retiring after 10 years.
Potlatch employee pinned by roll of paperboard
Lewiston A Potlatch Corp. employee was trapped by a roll of paperboard at the plant's pulp and paperboard division in Lewiston.
The employee was hospitalized Wednesday with injuries from the weight of the 5-foot-by-2 1/2 -foot roll, company spokesman Mark Benson said.
A team was conducting an investigation, which has been recorded in the company's Occupational Safety and Hazard log. Benson said this is the third time in 2005 that employees from that division have been taken from the plant to the hospital by ambulance.
Local journalism is essential.
Give directly to The Spokesman-Review's Northwest Passages community forums series -- which helps to offset the costs of several reporter and editor positions at the newspaper -- by using the easy options below. Gifts processed in this system are not tax deductible, but are predominately used to help meet the local financial requirements needed to receive national matching-grant funds.
Subscribe now to get breaking news alerts in your email inbox
Get breaking news delivered to your inbox as it happens.
---