News > Nation/World
British soldier wins Victoria Cross
Fri., March 18, 2005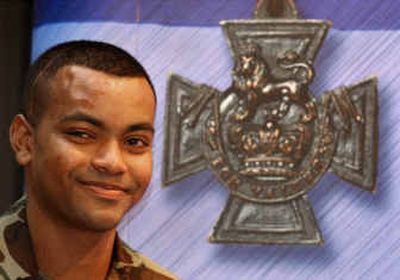 London
A soldier who saved 30 comrades during a nighttime ambush in Iraq was awarded the Victoria Cross on Friday, becoming the first recipient of Britain's top military honor in more than 20 years.
The award citation said Pvt. Johnson Beharry, 25, driver of a Warrior armored vehicle with the Princess of Wales's Royal Regiment, "carried out two individual acts of great heroism by which he saved the lives of his comrades."
In the first, he led a six-vehicle convoy through heavy fire in the southern Iraq town of Amarah in May 2004, delivering the troops to a secure area and returning twice to the vehicle under fire to carry the wounded to safety.
A month later, his vehicle was again hit and he suffered head injuries but was able to drive his troops to safety. Beharry needed brain surgery and is still recovering.
"Maybe I was brave, I don't know," he said. "At the time I was just doing the job, I didn't have time for other thoughts."
Beharry is the first living recipient of the award since 1965. It was posthumously awarded to two servicemen killed in the 1982 Falklands War.
Born on the Caribbean island of Grenada, Beharry moved to Britain in 1999 and joined the army in 2001.
Iraqi government progressing slowly
Baghdad, Iraq Shiite and Kurdish officials reported progress Thursday in resolving disagreements over territorial issues and Cabinet posts, but said they may need another week to put together Iraq's coalition government.
In violence around Iraq, six U.S. soldiers were wounded in the northern city of Mosul when a convoy was attacked by a car bomber, Capt. Patricia Brewer said in Baghdad. According to a witness, Faisal Qasim, the bombing was carried out by a suicide bomber who slammed his car into a convoy of seven armored vehicles, striking the fourth.
Nearly two months after they braved death to vote, many Iraqis are growing frustrated over the slow pace of the talks to form a new government.
"These negotiations included many things, not just the Kurdish issues, but also regarding the shape of the Iraqi government," said interim Deputy Prime Minister Barham Saleh, a Kurd.
Seaborne terrorists train in Philippines
Manila, Philippines Two of the most dangerous al Qaeda-linked groups in Southeast Asia are working together to train militants in scuba diving for seaborne terror attacks, according to the interrogation of a recently captured guerrilla.
The ominous development is outlined in a Philippine military report obtained Thursday by the Associated Press that also notes increasing collaboration among the Muslim militants in other areas, including financing and explosives, as extremists plot new ways to strike.
In the past year, the Indonesia-based Jemaah Islamiyah has given Abu Sayyaf militants in the Philippines at least $18,500 for explosives training alone, the report said.
The report comes a month after the U.S. Coast Guard announced it is seeking to better protect the nation's ports from terrorist attacks by scuba divers by developing a sonar system that can distinguish human swimmers from dolphins.
Local journalism is essential.
Give directly to The Spokesman-Review's Northwest Passages community forums series -- which helps to offset the costs of several reporter and editor positions at the newspaper -- by using the easy options below. Gifts processed in this system are not tax deductible, but are predominately used to help meet the local financial requirements needed to receive national matching-grant funds.
Subscribe now to get breaking news alerts in your email inbox
Get breaking news delivered to your inbox as it happens.
---