News > Business
Business is going places
Fri., March 18, 2005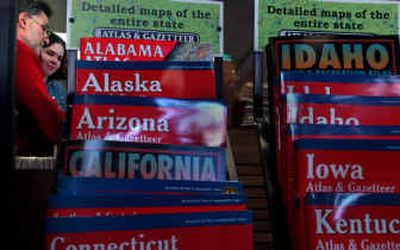 About 20 years ago, Steve and Linda Mitrovich came up with an idea.
Here they were, living within a few hours' drive of the spectacular Canadian Rockies, and it was nearly impossible to find good hiking maps.
Growing up in New England and hiking in the White Mountains, Steve Mitrovich said 10-cent maps were everywhere. That wasn't the case in Spokane.
So the couple decided to buy a bunch of topographical maps and sell them out of their basement.
"I know this sounds like the classic start of a business," Steve Mitrovich acknowledges, "but it's true."
Sales crept along at first, but Mitrovich was surprised at how many people would make a special trip to his home to thumb through maps. So many, in fact, that he decided in 1986 to open a small store in River Park Square. Going into business, especially a specialty shop focusing on maps and travel books, was a big risk that has rewarded the Mitroviches. They now operate Northwest Map and Travel Book Center out of a corner store on Sprague near the Ridpath hotel.
Today Mitrovich carries more than 10,000 different maps produced by government agencies and private companies. His inventory includes 1,400 maps that cover just the state of Washington, from navigation maps of the San Juan Islands to maps that help pheasant hunters in Eastern Washington's scablands.
"A lot of people come in and say 'I wish I had a business like that,'" he said. "I don't blame them. I would, too."
But the map-selling business isn't about dreaming up the next exotic trip or the romance of exploring forgotten areas.
Though it's tempting to think of a map shop as a business catering to outdoor enthusiasts, Mitrovich said most sales are directly related to conducting local business. And that means lots of detail work and hustling for local sales.
He points to his most successful product, the Spokane City/County Atlas, which he has painstakingly produced since 1996.
The 112-page atlas is required equipment for pizza delivery drivers, real estate agents, dispatchers and truckers, reporters and salespeople, taxi drivers and thousands more who must have accurate directions to do their jobs.
Up to 8,000 of the atlases, which are priced at $16.95, are sold every year at stores throughout Spokane.
Mitrovich has issued a half-dozen updates over the years as subdivisions sprout and new roads have to be added.
This year, for the first time, Mitrovich has issued an atlas for fast-growing Post Falls, Coeur d'Alene and the rest of Kootenai County.
Mitrovich also produces specialty map products that businesses use for marketing strategies.
While the map business has been good to Mitrovich, he's changed his strategy over the years in the face of technology.
Northwest Maps began selling online three years ago. Today, Internet sales account for about 15 percent of the company's revenues, and Mitrovich said he considers online sales as his most promising marketing avenue.
Less clear is whether Internet map sites are hurting map sales overall.
Driving directions on the Internet are commonplace. But many people still prefer to look at big paper maps that offer context as well as directions, he said, rather than relying on street maps spit out in low resolution on the office laser printer.
It's the same for hiking maps. Although people can buy a set of compact discs for about $100 that offers maps of the entire state of Washington, Mitrovich said those same people are unlikely to take a computer into the backcountry with them. So they still depend on the reliable, familiar old maps that continue to serve them well.
Local journalism is essential.
Give directly to The Spokesman-Review's Northwest Passages community forums series -- which helps to offset the costs of several reporter and editor positions at the newspaper -- by using the easy options below. Gifts processed in this system are not tax deductible, but are predominately used to help meet the local financial requirements needed to receive national matching-grant funds.
Subscribe now to get breaking news alerts in your email inbox
Get breaking news delivered to your inbox as it happens.
---