A&E > Entertainment
Disney's 'Ice Princess' plays it clean and cool
Fri., March 18, 2005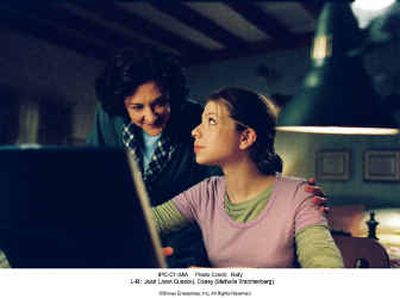 As figure-skating movies go, "Ice Princess" is a solid silver-medal winner. It doesn't score high in degree of difficulty, but it is technically flawless, and artistically it sticks the landing.
Here's a G-rated movie that isn't embarrassed to wear that label and show just how challenging and worthwhile "wholesome" can be.
The fakery is utterly hidden. You'll believe the former "Harriet the Spy"/"Buffy" underling Michelle Trachtenberg is a serious skater. As Casey, she's the fresh-faced flavor of the month, a pretty girl the filmmakers want to pass off as a wallflower. Skating brings her out of her shell.
Trachtenberg is real and appropriately girlish, not quite the cover girl that these movies usually are built around. Joan Cusack plays Casey's single mom, a feminist English teacher who is living out her fantasy through her soon-to-be-a- Harvard-physics-major daughter. Casey seems to share that dream, forgoing a social life to do a project for a big physics scholarship that will put her in the best college and launch her in life.
But in doing that project – she uncovers the physics of great skating technique, the jumps, spins, etc. – she comes under the influence of tough Tina, a skating coach played without a hint of sentiment by the terrific Kim Cattrall of HBO's "Sex and the City."
"You have to want it," she growls at Casey. "You have to want it more than anything else. It's not something you do on a whim."
What plays out amid Casey's new social interaction with her fellow skaters and her accidental discovery of her graceful and beautiful side on the ice is nothing less than a struggle for the girl's mortal soul, between her intense and uncompromising mom and her equally intense and ruthless coach. One, who grew up a plain Jane, is dismissive of the sexy sport and its "cute little outfits." The other has hints of Tonya Harding in her past.
Catfight!
Seriously, director Tim Fywell looked at his script and at his dream cast, and threw in one terrific mother-daughter or mother-vs.-coach or coach-student scene after another. Cusack and Cattrall are so good that they make Trachtenberg better.
There are funny bits about "skating parents" pushing their kids toward the fame and big money that an Olympic career can mean, and the head games of the various "mean girl" competitors (real skater Juliana Cannarozzo is a Goth-girl skater and a stitch). The more generic teen stuff, the high school flirting bit – Trevor Blumas is a pretty-boy Zamboni driver – doesn't get in the way of the main story.
This is really about the ways that a kid who's already learned how to focus on something can turn that intensity on a new passion, and the rewards of trying something new.
And the life lessons of "Ice Princess" – about betrayal, gamesmanship, the hard bargains that you strike to get what you want, and the pressure of making decisions at 17 that will change your life forever – are worth their weight in Olympic gold.
Forget "The Pacifier." This is Disney's niche, a good movie with positive messages, a G rating and no Vin Diesel. About time they found it again.
Local journalism is essential.
Give directly to The Spokesman-Review's Northwest Passages community forums series -- which helps to offset the costs of several reporter and editor positions at the newspaper -- by using the easy options below. Gifts processed in this system are not tax deductible, but are predominately used to help meet the local financial requirements needed to receive national matching-grant funds.
Subscribe to the Spokane7 email newsletter
Get the day's top entertainment headlines delivered to your inbox every morning.
---