News > Spokane
Examiner decides dogs are 'potentially dangerous'
Fri., March 18, 2005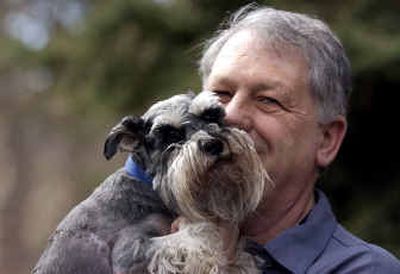 The pictures of Lexi, taken after she was attacked by two larger dogs, show a horrific maze of cuts and gashes held together by more than 50 stitches. The miniature schnauzer's right front leg was nearly torn off and had to be reattached. Her jaw was broken and is still held together with wire.
"I'm surprised the dog wasn't killed," said Nancy Hill, director of the Spokane County Regional Animal Care and Protection Society, or SCRAPS.
Zeus, a male black Labrador, and Scrappy, a female golden retriever mix, were declared potentially dangerous dogs during a hearing Thursday before Spokane County hearing examiner Mike Dempsey. SCRAPS originally declared the dogs dangerous, but their owner, Derek D. Marchand, moved the dogs out of state and appealed that decision. During the appeal, the dogs' status was reduced to potentially dangerous.
Two versions of the attack emerged during the hearing. Lexi's owner, Dave Weidner, said he was walking her on a leash in the Dishman Hills Natural Area on Feb. 26. He said he saw two unleashed dogs rush toward his dog. He said the dogs put their noses under Lexi's stomach and flipped her over, quickly attacking.
"That's not exactly what happened," Marchand said. He said Scrappy approached Lexi to sniff her and Lexi initiated the attack. "His dog got defensive and took the first bite."
The two men separated the dogs, and Weidner said he carried Lexi two miles to his car, accompanied by Marchand's girlfriend, Lindsey Gilbert. Marchand then met Weidner and drove him to the Ponti Vet Clinic, where his dog was in surgery for three hours. Marchand paid the $1,300 bill.
Weidner contacted SCRAPS two days later to report the incident. Animal control Officer Jan Lawson wrote in her report that she contacted Marchand at his residence at 15826 E. 20th and he refused to hand over the dogs after she told him they had been declared dangerous. Owners of dangerous dogs are required to purchase special insurance of $250,000 a dog, and the dogs must be either in a locked pen or leashed and muzzled. Such insurance is often hard to find and expensive.
Marchand finally said that the dogs were in Tum Tum, Wash. Lawson wrote in her report that she told him the dogs were not allowed in the state unless the dangerous dog requirements were met.
Hill said Marchand called her the next day to tell her the animals had been moved to Bend, Ore. "Deschutes County doesn't recognize dangerous dog designations from other states," Hill said.
Marchand insisted that it was his fault his two dogs were not on a leash and that he should be punished, not the dogs. "My dogs are good dogs," he said. "They've never hurt anyone before. They've been in a couple little dog scraps before. Dogs fight. It's my fault. I didn't have them on a leash."
Marchand said Scrappy was also injured in the fight, but he did not present pictures of her injuries. Gilbert also attended the hearing and backed up Marchand's version of events, which Weidner disputed. "Their testimony is altered reality," he said. "They don't have any photos."
"It's clear to me that Mr. Marchand is at fault in this incident," Dempsey said, because the dogs weren't leashed as required by law. Dempsey recommended that the dangerous dog designation be changed to potentially dangerous, a change that must be approved by county commissioners.
Hill recommended several rules, including making Marchand have the dogs confined in either a home, fenced yard or vehicle. If they are not confined they must be on a leash. She also said she wants the dogs to be photographed and have an identifying microchip implanted so they can be tracked. "Mr. Marchand has been less than forthcoming," she said. Dempsey agreed to recommend to the commissioners that they approve the requirements she suggested.
Marchand said he plans to bring the dogs home, but he isn't sure when. After the hearing, Weidner said he would have preferred that the dogs be declared dangerous, but that his main concern is that no other animals are attacked.
Hill said that her goal in declaring Scrappy and Zeus dangerous was to protect people and animals. "What we want is to make sure it doesn't happen again," she said. "I think we've accomplished that goal."
Local journalism is essential.
Give directly to The Spokesman-Review's Northwest Passages community forums series -- which helps to offset the costs of several reporter and editor positions at the newspaper -- by using the easy options below. Gifts processed in this system are not tax deductible, but are predominately used to help meet the local financial requirements needed to receive national matching-grant funds.
Subscribe now to get breaking news alerts in your email inbox
Get breaking news delivered to your inbox as it happens.
---