A&E > Entertainment
Find surprises inside A Taste of Asia
Fri., March 18, 2005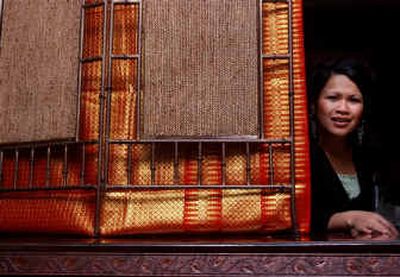 From the outside, A Taste of Asia differs little from the Zip's that preceded it at its 725 W. Third Ave. location.
If it weren't for the bright, colorful sign and empty space where the "Order Here" drive-thru speaker used to be, someone who's been out of town the past few months could walk all the way to the door without noticing that the building no longer houses burgers and fries.
But don't forget the old saying about the book and its cover. Inside, the place is pure Asian class.
"(We) have a pond and a fish tank, and we brought in dark wood," said owner Phitsamay Phetmisay. "We basically had to start from ground zero. We wanted to make it a relaxed atmosphere. We didn't want it looking like it was a fast food restaurant before. So it took a lot of work."
She's not lying. Walking through the door transfers customers from an outdoor surrounding of little aesthetic quality – sorry, fans of the beautiful Third Avenue strip – to a classy, exotic restaurant retreat complete with round paper lanterns, lush décor and plants galore.
Phetmisay – who is a native of Connell, Wash., of Thai descent and goes by Mo, "because it's easier" – took the idea to start the restaurant from her family.
Many of her relatives own restaurants in California, and it was their success with a three culinary-culture combination – Thai, Chinese and Vietnamese – that drove her to open A Taste of Asia.
Now she has her own spot, with more than two dozen Thai dishes, 13 Vietnamese entrees and 15 Chinese choices. Many of the recipes were handed up the coast to her by her relatives.
In fact, though the restaurant is her baby, it could be considered a collaborative family affair. Her brothers even came to help her with the three-month renovation of the former fast food joint.
A Taste of Asia is open Mondays-Saturdays, 11 a.m.-9 p.m., and Sundays, 4-9 p.m. Prices range from $6.50-$15.95 for the entrees and $5.50-$8.50 for the weekday lunch specials. Call 455-6793 for details.
Relief from the usual grub
Take it from someone who spent nearly three years working two jobs in Spokane Valley – it's a pain to find a quick and unique lunchtime alternative on sprawling Sprague Avenue on a half-hour break.
After spending the first 10 minutes driving, the area's prevalent fast food chains start to drown out other possibilities as they promise speedy familiarity.
Scarpello's – a new gourmet-on-the-quick joint near Sprague Avenue and Pines Road – might make things a little easier for the driving hungry.
Owner Lisa Medlen wanted to open a deli with a kick – a place where folks could buy meats, cheeses and sandwiches by the pound, but also could snag gourmet salads, soups, casserole dishes and Mediterranean-style pastas. It's kind of a Spokane Valley variation on the Lindaman's theme.
Medlen says her dream will materialize at 11808 E. Sprague Ave. – in the same building as Simply Northwest gift service – once everything's finalized with inspectors. No date is set, but she estimates her restaurant will open next week.
Scarpello's also will offer a full-service espresso bar, pastries and other baked goods, and will open at 6 a.m. for early birds. For more information, call 893-9410.
It's time for Friday's
Nine-to-fivers already kneel to kiss the ground Friday walks on.
It signals the end of work and the start of play.
Friday is the bees knees, the cat's pajamas and the bomb all rolled into one.
It's also a new restaurant at Spokane Valley Mall.
T.G.I. Friday's opened another link in its international chain at 14728 E. Indiana Ave. in early February, bringing its version of the fun, group party-themed restaurant to the area for the first time.
"Our theme would kind of be 'welcome back to high school,' " said general manager Patrick Gaither. "We keep memorabilia on the walls that kind of takes you back to that time. And we are kid-friendly, also."
This Friday's isn't like many others in the chain – while some have '50s and '60s deco, this one takes bits from as recently as the 1980s, giving the younger generations reasons to reminisce.
And Gaither says the food items are bound to please an even wider audience.
"We offer something for every age group, regardless if you're a 4-year-old to if you're 90 years old," he said. "We have something for everybody."
Like local staples The Onion and Cyrus O'Leary's, Friday's offers an eclectic food menu – think Cajun Shrimp and Chicken Pasta, bruschetta, fajitas and Fish and Chips, among others – and plenty of mixed and blended drinks. And it'll serve them late – Friday's is open daily from 11 a.m. – 2 a.m.
All that and it's also the type of place that'll sing on your best friend's birthday.
Friday's doesn't take reservations yet, so diners have to chance the wait. For more information, call 922-6604.
Local journalism is essential.
Give directly to The Spokesman-Review's Northwest Passages community forums series -- which helps to offset the costs of several reporter and editor positions at the newspaper -- by using the easy options below. Gifts processed in this system are not tax deductible, but are predominately used to help meet the local financial requirements needed to receive national matching-grant funds.
Subscribe to the Spokane7 email newsletter
Get the day's top entertainment headlines delivered to your inbox every morning.
---