News > Nation/World
Hamas, Islamic militants agree to continue truce
Fri., March 18, 2005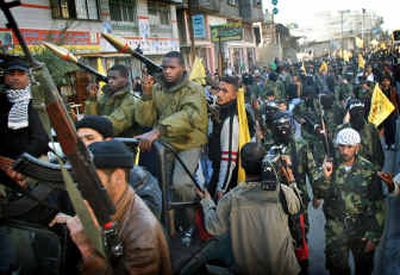 JERUSALEM – Palestinian Authority President Mahmoud Abbas won pledges Thursday from Islamic militant organizations to extend the suspension of attacks on Israel until the end of this year if the lull in violence continues, but he failed to persuade them to agree to a formal cease-fire.
In an accord reached during three days of meetings outside of Cairo, the Islamic Resistance Movement, or Hamas, and other Palestinian militant groups said their pledge not to resort to violence would depend on whether Israel honored its commitment to withdraw its troops from all Palestinian cities in the West Bank and release significant numbers of Palestinian prisoners. "What was agreed upon today is calm until the end of this year as maximum period of time in exchange for an Israeli commitment to withdraw from cities and release prisoners," Mohammad Nazzal, a senior Hamas official, told reporters after the meetings.
Israeli Prime Minister Ariel Sharon described the arrangement as "a positive first step" in a telephone conversation with Egyptian President Hosni Mubarak, according to a statement released by Sharon's office. Mubarak, who hosted a summit between Abbas and Sharon last month in Egypt, also sponsored this week's meetings among Palestinian officials and militant leaders.
The Palestinian groups refused to agree to a formal cease-fire without a reciprocal agreement from Israel, according to militant leaders. Abbas and Sharon agreed to a similar informal halt to hostilities during their summit in February.
"There is a crucial difference, in our opinion, between the two terms," Nazzal told the al-Jazeera television network. "The cease-fire is a political term that indicates a long period of time and also involves two parties. This agreement does not exist.
"But the agreement for calm is a Palestinian decision that has been taken for a limited period of time."
Without formal agreements, "it's easier for things on both the Israeli and the Palestinian side to go wrong," said Mouin Rabbani of the International Crisis Group, a research organization headquartered in Brussels that monitors the world's most volatile areas. "It only takes one incident and the whole situation could blow up again."
Since the death of Palestinian leader Yasser Arafat in November and the election of Abbas as president of the Palestinian Authority in January, Israelis and Palestinians have increased their efforts to improve relations. Sharon told Mubarak on Thursday that "to move forward in the diplomatic process, the terrorist organizations will be unable to continue existing as armed organizations and certainly not as terrorist organizations," according to the statement issued by Sharon's office.
During this week's meetings, Palestinian officials and militant leaders also decided to consider ways to bring Islamic organizations into the secular Palestine Liberation Organization, a move that could revitalize the flagging PLO and reorder Palestinian politics.
"We agreed on establishing a committee to study the rebuilding of the PLO on new foundations, so as to absorb all the factions, including Hamas and Islamic Jihad," Ramadan Shalah, general secretary of Islamic Jihad, another militant group, said in an interview with al-Jazeera.
Although Palestinian leaders and militant groups have discussed including Islamic groups in the PLO for more than decade, the death of Arafat and religious candidates' gains in Palestinian local politics have given new impetus to the efforts.
"It's extremely significant," said the International Crisis Group's Rabbani. "It also shows the preparedness of these movements … to be integrated into the fabric of Palestinian politics."
Local journalism is essential.
Give directly to The Spokesman-Review's Northwest Passages community forums series -- which helps to offset the costs of several reporter and editor positions at the newspaper -- by using the easy options below. Gifts processed in this system are not tax deductible, but are predominately used to help meet the local financial requirements needed to receive national matching-grant funds.
Subscribe now to get breaking news alerts in your email inbox
Get breaking news delivered to your inbox as it happens.
---