News > Nation/World
Russian businessman survives attack on car
Fri., March 18, 2005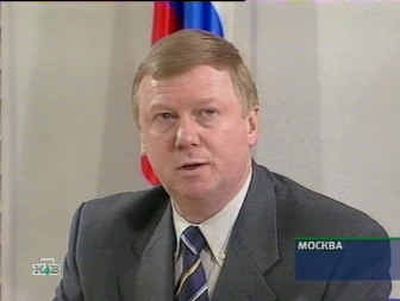 MOSCOW – Anatoly B. Chubais, one of Russia's most prominent business and political leaders, survived an apparent assassination attempt unscathed Thursday when assailants detonated a roadside bomb and then fired at his armored car as he commuted to work on a forested highway.
Chubais was the architect of Russia's controversial post-Soviet privatizations of state assets and now is a leader of the pro-market Union of Right Forces party. He also heads the state-controlled electricity monopoly Unified Energy Systems, the nation's seventh-largest company, with annual revenues of $21.6 billion.
A few hours after the attack, the 49-year-old businessman told a news conference that he had been aware of a plan to kill him. But Chubais declined to reveal whom he suspected.
"I have an idea of who could have taken out a contract on me," he said. "I had reason to expect something like this and had taken measures to strengthen security. … I need to have him caught, so don't ask me to say who he is."
Police quickly located a green Saab believed to be a getaway car. Late Thursday evening, the Russian news agency Interfax quoted unnamed police sources saying that the husband of the car's owner had been arrested and that explosives were found in his home. He was identified as a retired military sabotage specialist.
Chubais also issued a statement pledging to continue his efforts not only in business but also in politics, where he has been part of an effort by pro-democracy leaders to form a unified movement to contest parliamentary elections in 2007 and presidential balloting in 2008. "The main thing I can say today is that I will work twice as hard on everything I have been doing to reform the nation's electricity industry and consolidate the democratic forces," he said.
Politicians and analysts offered a range of possible motives for the attack. Some linked it to Chubais' leading role in planned economic reforms aimed at introducing competition to the power industry. Others thought it was more likely related to politics.
The Union of Right Forces, a party he helped found, issued a statement declaring that in all of his posts, Chubais has worked to make Russia "a truly free and powerful democratic country." It implied that his attackers opposed that goal.
There also were suggestions that the incident might have been meant as a warning rather than an assassination.
Chubais said he and his aides had viewed the forested stretch of highway between his country home and Moscow as potentially dangerous.
"I was following my usual route to work, just as I do every day," Chubais said. "We heard an explosion. After that, a fragment hit the windshield, and we saw bullet marks on the hood."
Police said a bomb exploded near Chubais' armored BMW, and two attackers wearing combat fatigues fired automatic weapons. His car sped away as the assailants exchanged shots with bodyguards who had been following in a second vehicle, police said. The attackers then fled into the nearby forest. No injuries were reported.
The bomb contained the equivalent of about 2 pounds of TNT, investigators said.
Local journalism is essential.
Give directly to The Spokesman-Review's Northwest Passages community forums series -- which helps to offset the costs of several reporter and editor positions at the newspaper -- by using the easy options below. Gifts processed in this system are not tax deductible, but are predominately used to help meet the local financial requirements needed to receive national matching-grant funds.
Subscribe now to get breaking news alerts in your email inbox
Get breaking news delivered to your inbox as it happens.
---