Sports
Second half brought out best in Zags junior Batista
Fri., March 18, 2005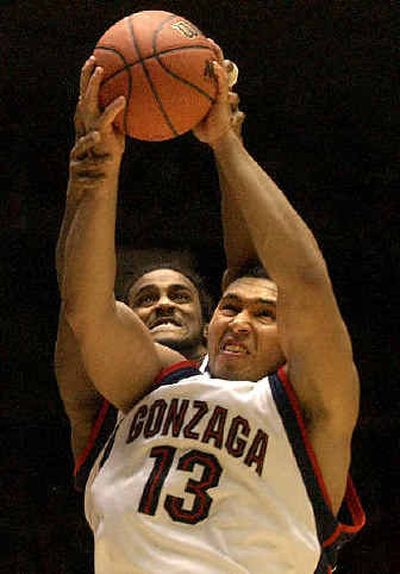 TUCSON, Ariz. – Gonzaga junior forward J.P. Batista had experienced this feeling before. The easy-going Brazilian was a little edgy, slightly out of his comfort zone. It's a familiar malady for first-time NCAA Tournament players.
He missed a putback that "I don't usually miss."
Then he had a brief brain cramp at the end of the first half, when he was in prime rebounding position as Derek Raivio launched a 3-point attempt with the shot clock and game clock winding down.
Batista, distracted by hearing the shot-clock buzzer and thinking it was the end of the half, didn't grab the rebound of Raivio's miss, even though there were a couple of seconds remaining. By the time David Pendergraft chased down the ball and fired up a shot, the horn had already sounded.
Batista got an earful from Raivio leaving the court.
"He said, 'C'mon J.P., grab the rebound,' " Batista said. "I was really upset because I thought that was the buzzer and I didn't pay attention. The first half I was kind of nervous and I was frustrated because I had a bad half."
But he didn't have two bad halves. Batista scored 10 of his 14 points in the second half and added one giant assist late as the Bulldogs outlasted upset-minded Winthrop 74-64 in their opener Thursday at the McKale Center.
"He really got it going on the offensive end," GU's Sean Mallon said of Batista. "He was huge for us down the stretch. J.P. and Adam (Morrison) were both huge."
Batista said the flow of the game reminded him somewhat of his first trip to a national tournament. That came during his freshman year at Western Nebraska, in the National Junior College Athletic Association Tournament in Hutchinson, Kan.
"It was kind of like that, yeah," Batista said. "It was a similar feeling, but we came back in the second half (of the NJCAA opener) and beat them up and I had a good second half."
Gonzaga didn't beat up the Eagles, but Batista's size took its toll on Winthrop's thinner interior players. He had a pair of post-up baskets inside the 7-minute mark that gave the Bulldogs a 60-56 lead.
"That's my game: Put my body on somebody, play physical and strong," Batista said. "I need to get angle baskets and baskets close to the rim."
Winthrop evened the score at 60, but GU went to Batista on the low block again. He wheeled into the paint, but alertly fired a pass to Raivio, whose 3-pointer gave Gonzaga the lead for good, at 63-60, with 4:25 remaining.
"I had made those baskets and I was really confident," Batista said. "I just grabbed the ball and was going to do my move – I usually have my fadeaway jumper in the middle – but I saw everybody collapsing. Everything happened so slowly. I saw Derek open and I just gave him a good pass and he made a great shot."
Batista said a halftime huddle helped change his perspective.
"We came back in and huddled up and said, 'Let's go, man. Let's play hard and together and change this,' " Batista said. "I had my mindset to play a better half to help my team get a win."
It wasn't easy.
"Hard, hard game," Batista said. "I've never heard about that team, but you see the numbers and they had a great season – 27 wins, 18 in a row. I was surprised they came out playing great, but we were able to come back in the second half."
Local journalism is essential.
Give directly to The Spokesman-Review's Northwest Passages community forums series -- which helps to offset the costs of several reporter and editor positions at the newspaper -- by using the easy options below. Gifts processed in this system are not tax deductible, but are predominately used to help meet the local financial requirements needed to receive national matching-grant funds.
Subscribe to the sports newsletter
Get the day's top sports headlines and breaking news delivered to your inbox by subscribing here.
---