News > Spokane
Soldier says most Iraqis in Mosul 'grateful we are there'
Fri., March 18, 2005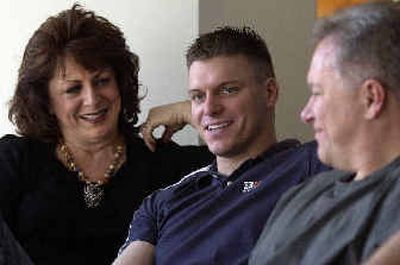 After the decisive and devastating response by U.S. forces in January to Sunni resistance in Fallujah, it was widely speculated that Mosul would become the next center of the Iraqi insurgency.
Iraq's third largest city, 248 miles north of Baghdad, already had seen its share of fighting. In December, a suicide bombing in the dining hall of nearby Forward Operating Base Marez had killed 22 people in the worst single attack on U.S. forces in the war.
"I remember hearing that Mosul was the next Fallujah and thinking, yeah, it already is," said 1st Lt. Sean Keneally of Spokane Valley, a member of the Stryker Brigade now patrolling the city. "But our presence there was too strong for (insurgents) to gain a foothold."
Keneally, a platoon leader with the 1st Brigade of the 25th Infantry Division based at Fort Lewis, Wash., is home on two weeks' leave. He spoke Wednesday about Mosul, the dining hall explosion and his role in securing a polling place for Iraqi elections in January.
His is the only platoon in his company that has not sustained a single casualty, he said. There have been 21 soldiers killed and many more wounded since the 1st Brigade arrived in Iraq last fall. Keneally, a member of the Grace Harvest Fellowship church in Spokane Valley, attributes his platoon's record to the power of prayer.
But the lieutenant, who said he knows the life story of each soldier in his platoon, also relies on training and instinct.
"Every decision I make could cost one or all of our lives," he said. "The biggest thing for me is that I get each one of them home alive."
The platoon conducts two to three "cordon-and-knock" missions a day, driving through neighborhoods and searching houses for weapons and ammunition, Keneally said. "It keeps the terrorists out of the neighborhoods."
In addition, his soldiers go out on night raids, acting on information that a house is harboring an insurgent. Those captured in such raids are mostly Iraqi, he said, but also the occasional Syrian combatant. They may be former Baathists, radicals or religious extremists "held together by a common goal," the ouster of U.S. forces in Iraq.
On Dec. 21, Keneally's platoon was anxious to go to lunch at the FOB Marez dinning hall, but the soldiers had to wait for their lieutenant and sergeant, who were attending a briefing. Typically, the sergeant takes half the platoon to eat, and then Keneally takes the other half. On this day, they were late, and the men were waiting in the truck to go.
The sergeant's group left and 30 seconds later, Keneally heard a large explosion. He assumed it was a mortar attack, which are not uncommon at the base. The soldiers returned to say the dining hall had been hit. Later it was determined a suicide bomber had detonated his ball-bearing-packed explosive vest inside. When Keneally's men arrived at the dining hall, they witnessed the carnage.
"It was like a scene from a movie," Keneally said.
There were body parts everywhere, and rescue workers were using tables as stretchers. The day after the attack, Keneally found half of the remains of the suicide bomber, believed to be an Iraqi contract worker on the base.
On Dec. 29, insurgents staged a well-orchestrated attack on a nearby combat outpost. Keneally's platoon had just been switched out of the outpost when a 1,500-pound truck bomb was detonated 165 yards away from the building, initiating the attack on not just the outpost, but every police station in Mosul.
As U.S. forces responded to the attack, they came under ambush by insurgents and 20 to 30 roadside bombs along the routes. Such mass attacks by insurgents are rare, Keneally said, and leave the enemy vulnerable to counterattack. The Strykers inflicted heavy enemy casualties that day, and lost only one man in the company. U.S. forces took back the police stations the next day.
The Stryker Brigade also was assigned to provide security for the Jan. 30 national elections. Each platoon leader in Keneally's company was assigned a polling place, usually at a school or other building. It was a delicate assignment in that U.S. military command did not want its forces to be perceived as the dominant force on Election Day.
Keneally's platoon assisted Iraqi security forces who were reluctant to search women or familiar Iraqi citizens coming to vote. Keneally had to insist that they did. There had been military intelligence that his polling place had been targeted for a suicide bombing. It also was vulnerable to sniper attack.
The election lasted 12 hours, during which the platoon was on constant patrol. Keneally credits this vigilance with preventing an attack on the polling place.
The Stryker Brigade in Mosul also is waging a constant battle for Iraqi hearts and minds, Keneally said.
He estimates that 10 percent of the people "hate us and shoot at us." Another 20 percent believe U.S. forces have "worn out our welcome" and wish we would go home. The remaining 70 percent are "grateful we are there."
Keneally believes being there is the right thing to do and that the weapons-of-mass-destruction rationale the Bush administration used before the invasion has been blown way out of proportion. Two years later, no stockpiles of illegal weapons have been found in Iraq.
"There are terrorists there," Keneally said. "If they weren't fighting us there, they would be fighting us here. I'd rather be fighting them there."
Keneally, 25, a West Point graduate, is the son of Robert and Louise Keneally of Veradale. He is engaged to be married to Kim St. John of West Palm Beach, Fla., upon his return from Iraq in November.
Local journalism is essential.
Give directly to The Spokesman-Review's Northwest Passages community forums series -- which helps to offset the costs of several reporter and editor positions at the newspaper -- by using the easy options below. Gifts processed in this system are not tax deductible, but are predominately used to help meet the local financial requirements needed to receive national matching-grant funds.
Subscribe now to get breaking news alerts in your email inbox
Get breaking news delivered to your inbox as it happens.
---