A&E > Entertainment
Start your day the delicious way at one of many favorite local diners
Fri., March 18, 2005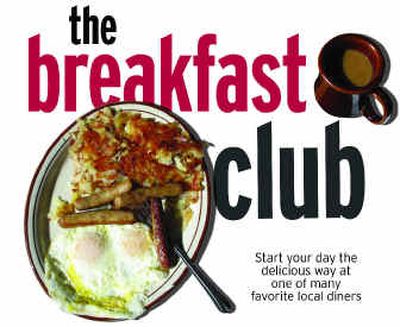 b
reakfast is the best meal of the day, easily. Or should we say, over-easily. It's inexpensive. You can pound a plate of pancakes for less than $5. Even an "upscale" breakfast – say, an Eggs Benedict splurge – rarely will set you back more than a sawbuck. It's reliable. Finding a corner diner that can perfectly brown your hash is far easier than finding one that can perfectly sear your squid. It's friendly. Walking into your favorite diner, newspaper in hand, can make you feel like Norm in "Cheers." We asked the 7 and Spokesman-Review staff to encapsulate what they love about their favorite diners across the region. Here are the results:
Bite Me Café, 113 W Indiana Ave. (326-0359) – Bite Me Café may not look like much, but don't let appearances fool you. The food is cheap, the portions are plentiful and it's all delicious. Spice up your hashbrowns or big breakfast burrito with some of the best homemade salsa around, and take home a quart for less than $5. Bite Me also serves breakfast all day, so you can rise and shine there any time. RM
The Blue Moon Café, on the corner of Lake Street and Second Avenue, Sandpoint. (208-265-9953) – Owner/chef Kim Duffy moved her gourmet fare a year and a half ago from the Samuels Service Center on the Pack River and now serves her trademark crepes seven days a week in downtown Sandpoint. Breakfast specials change daily, but often include Dutch babies, blintzes, wild coho salmon steaks and Eggs Benedict with homemade hollandaise sauce. Also popular is her Mexican breakfast fare such as huevos rancheros. SD
Cannon Street Grill, 144 S. Cannon St. (456-8660) – This Browne's Addition institution is the place in Spokane for upscale breakfasts such as quiches and frittatas. Yet here's the beauty: It also retains a homey, bustling diner feel. The quiches and frittatas are top-quality, yet give me the more basic platters such as the St. Joe River Special, a scramble dish and the homemade Corned Beef Hash. JK
Dolly's Corner Café, 1825 N. Washington St. (325-9034) – This 1940s-style diner is straight out of an Edward Hopper painting – if only Hopper had hot pink in his palette. This shoebox is positioned diagonally on a mid-city corner, and it manages to be old-fashioned and cool at the same time. Actual conversation overheard from the friendly young waitress as she delivered some quality eggs, links and hash browns: "Sorry, honey, I was engaged in a deep philosophical conversation about health food. Kind of oxymoronic, huh?" JK
Ferguson's Café, 804 W. Garland Ave. (325-3482) – Remember Johnny Depp in that diner scene from 1994's "Benny and Joon"? Better yet, remember the diner? Jog your memory by heading to Ferguson's for a bite. This time-capsule joint played a part in Spokane's 15 minutes of almost-fame, with scenes from "Why Would I Lie," "Vision Quest" and "Benny and Joon" filmed at its counter. And owner Jim Adolfson serves a mean – but inexpensive – plate of biscuits and gravy. TB
Frank's Diner, 1516 W. Second Ave. (747-8798) – Head to this converted train car on any given Saturday or Sunday morning, and you'll most likely have to wait. But by the time you get the food, you'll realize why. This classy place serves huge portions of quality food. And sometimes, if you're lucky, Frank's keeps mugs and coffee pots in a gazebo outside to keep you company while you wait. TB
Hogan's Hamburgers, 2977 E. 29th Ave. (535-7567) – The King is alive in this Lincoln Heights eatery, a 1950s-themed joint where you can order the standard breakfast menu of eggs, meat products, hash browns and café-style coffee (the word espresso here is a foreign concept). The tunes – is that Buddy Holly I hear? – aren't too loud, and the feeling is warm and cozy. Just don't step on anyone's blue suede shoes. DW
The Hoot Owl, east of Sandpoint on Highway 200 in Ponderay. (208-265-9348) – This local joint has been around for 30 years and caters to the working class. Regulars have their own mugs stored on the wall near the coffee pots. Specialties are biscuits and gravy, chicken-fried steak and pork chops, all made from scratch with local beef. SD
Huckleberry's, 926 S. Monroe St. (624-1349) – A friend of mine used to come to the restaurant part of this South Hill "Natural Market" just to see how what he called "rich people" eat, drink and shop. What anyone is likely to find, particularly on weekend mornings, is maybe the best omelet bar in town. The seating is little more than functional, at certain times it's impossible to get a seat and you're not going to find greasy bacon strips or pork links (this is a "natural market," after all). But you just can't beat those omelets, which are made to order. DW
Knight's Diner, 2909 N. Market St. (484-0015) – A genuine diner, which for years stood next to the General Store on Division Street, Knight's offers a no-nonsense breakfast with – if you're lucky to score the right counter seat – a view of the cook that makes eating there almost an interactive exercise. And that Denver omelet, served with a generous amount of crispy, flavorful hash browns – is as tasty now as it was 25 years ago. DW
Linnie Thai Cuisine, 1301 W. Third Ave. (835-5800) – Let's make the point up front: You can't order Pad Thai for Saturday-morning breakfast at this noted Spokane Thai restaurant, which for much of its existence was set near the corner of Grand Boulevard and 14th Avenue. What you can order is the same traditional eggs/cakes/hash- browns breakfast that was served for decades at the now-defunct restaurant whose site Linnie's took over – The Shack. DW
Michael D's Eatery, 203 Coeur d'Alene Lake Drive. (208-676-9049) – The bottles in the wine racks along the wall most likely aren't for breakfast, but a good chardonnay doesn't seem far-fetched with Michael D's egg concoctions with cream cheese and chives accompanied by a bowl of fresh blueberries, strawberries and cantaloupe in yogurt sauce. If that's too high-falutin', try ham and eggs or omelets with anything plus chunks of fried potatoes, and wash it down with coffee equal to a fine wine. But go early or plan a long wait on the restaurant porch. CT
The Old European, four locations, 7015 N. Division St. (467-5987), 11520 E. Sprague Ave. (928-6868) and 1710 E. Schneidmiller Ave. in Post Falls (208-777-2017), 455 S. Grand Ave., Pullman (509-334-6381) – This wildly popular local chain is famous for its European-style pastries and breakfast cakes, including its Danish abelskivers (think extra- tasty, golf-ball-sized donuts). However, they also have the area's best potato pancakes, with diced German sausage for a smoky, meaty surprise. You can even score a breakfast-style "goulash" – startling in concept, fine in execution. Their regular American-style breakfasts are above average, as well. JK
The Satellite, 425 W. Sprague Ave. (624-3952) – There's only one place to get the most kick-ass Long Island Iced Tea in town while you're grubbing on über-tasty breakfast food at 1 a.m. This is that place. As an adjunct to the hopping bar of the same name, The Satellite can get smoky and rowdy on peak nights. I once saw a bouncer drag a drunken brawler outside by his hair – no joke – while I enjoyed my greasy grub and sipped my vodka tonic. Talk about perfection. TB
Shari's Restaurant & Pie Bakery, numerous locations – This familiar chain is the 7-11 of diners. No, Shari's doesn't serve Slurpees, but it's open 24/7/365 and you never know who you'll find there. It's a great place to grab breakfast for dinner, snag a fresh piece of chocolate cream pie at 7 a.m. or load up on greasy goodness along with the Goths and punks after closing time at the bar. TB
The Skyway Café, Felts Field, 6105 E. Rutter Road (534-5986) – The first thing you notice about this eatery is the crowd. The second thing is that no one's likely to offer you a seat, so it's find-a-table-on- your-own. Third up are the cinnamon rolls, which – along with the rest of the hearty breakfast food – are served with the no-nonsense air of a home-room teacher. Finally, there are the airplanes, which, if you manage to find a window seat, you can watch come and go about as often as those coffee refills. DW
Top Notch Café, 825 N. Monroe St. (327-7988) – If you're in the mood for friendly service and great food served fast, Top Notch Café lives up to its name. Don't miss the super-tasty scrambles – eggs and potatoes mixed with various meats, cheeses and vegetables. The coffee's plentiful and surprisingly good for diner brew – none of that weak, brown water other places try to pass off as a caffeine fix here. Top Notch almost always has a place to squeeze you in, and you'll get your plate double quick. RM
Wall Street Diner, 4428 N. Wall St. (325-4730) – Walking inside this cozy wood-paneled Wall Street Diner on a Sunday morning feels sort of like stepping into a cozy ship's galley. This place is all about the classics, including the décor and flavorful menu – eggs, meat, carbs and coffee. Wall Street Diner is a real winner in warmer weather because the delicious fare can be savored in the sunshine on the diner's patio. RM
Local journalism is essential.
Give directly to The Spokesman-Review's Northwest Passages community forums series -- which helps to offset the costs of several reporter and editor positions at the newspaper -- by using the easy options below. Gifts processed in this system are not tax deductible, but are predominately used to help meet the local financial requirements needed to receive national matching-grant funds.
Subscribe to the Spokane7 email newsletter
Get the day's top entertainment headlines delivered to your inbox every morning.
---