A&E > Entertainment
Talk about safe sex before it's too late
Fri., March 18, 2005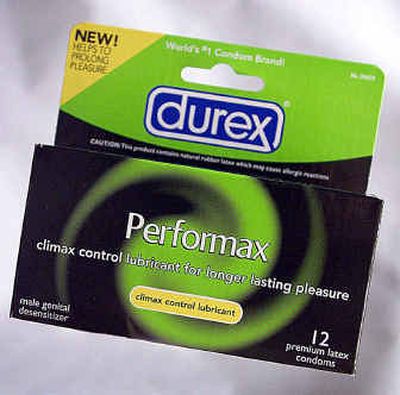 Q: My 15-year-old son spends hours a day on the phone with his girlfriend.
He has gone to her house a few times and to parties with her. We've lectured him on the facts of life but want to be sure that nothing's going on. Do you think they're making out?
Mia: They could be making out, they could be having sex, they could be holding hands. (OK, they're not holding hands.) The point is your son is starting to have a private life that you're not a part of. If your facts-of-life lectures haven't included a discussion about protection and safety, then I suggest you give him another one.
Steve: I was 26 or something before I had a girlfriend, so I'll go with Mia on this one.
Q: I am curious about how much men think about a sexual encounter afterward. Are they mostly just happy they had sex and looking forward to the next time?
My boyfriend and I are still quite hot for each other, so it's not like our sex is stale, but hours after our time together I find myself analyzing my performance and feeling a little inadequate. Am I fretting too much?
Steve: Yes. You are suffering from what Hall of Famer Mike Schmidt called "paralysis by analysis." Thinking too much can harm your performance. If you enjoy it and he enjoys it, just let it flow and don't fret.
Mia: If you want to change things up, you could talk with him about your fantasies or his. (Bondage, public sex, role playing, etc.) But if you're both having fun, just enjoy it.
Q: I'm a 31-year-old woman who has had a three-year, off-again/on-again relationship with a man who lives in Canada. We've broken up so many times and live so far apart that we don't know whether the relationship can work. He wants me to move to Canada, but I can't work there unless we're legally married. He suggests we get married and that if we don't get along, we'll just get a divorce and I can return to the United States. Do you think this is a good idea?
Mia: No. I don't think you should relocate your life and get married unless you're sure it's what you want. It's hard enough to make marriage work when you really love each other and want to be together. And Canada? Ick. It is too cold to live there.
Steve: Frequent break-ups? Getting married just so you can get a job? Helloooo! Skip Canada and seek counseling to find out why you're susceptible to bad relationships. Resolve those issues, and you'll find a better boyfriend.
Q: My husband wants me to shave my private parts. Is this safe to do? What is the best way to do it? I feel too embarrassed to ask my doctor.
Steve: Back in the day, the only time anyone shaved their pubic hair was if they had the crabs. But far be it from me to stand in the way of fashion. About the only danger I can see are the occasional nicks and cuts I get when I shave my face.
Mia: Shaving is perfectly safe except for the nicking potential. But if you really want to wow your husband, get a wax. It's painful but looks hot and feels great. And the hair will stay gone longer.
Local journalism is essential.
Give directly to The Spokesman-Review's Northwest Passages community forums series -- which helps to offset the costs of several reporter and editor positions at the newspaper -- by using the easy options below. Gifts processed in this system are not tax deductible, but are predominately used to help meet the local financial requirements needed to receive national matching-grant funds.
Subscribe to the Spokane7 email newsletter
Get the day's top entertainment headlines delivered to your inbox every morning.
---