News > Business
Toy industry hopes to get back in game
Fri., March 18, 2005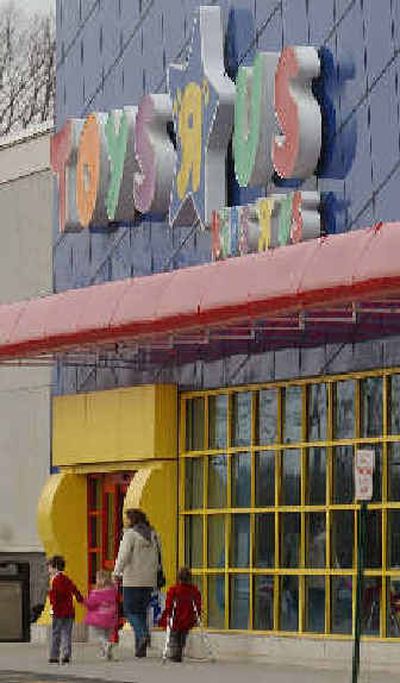 NEW YORK — A recharged Toys R Us Inc. may help energize an industry suffering from price wars with behemoth discounters and from weaker sales because children want computer games and digital music players instead of stuffed animals, toy vendors and analysts said Thursday.
They are hoping that the $6.6 billion buyout of the nation's second-largest toy seller by an investment group, if completed, will help the company react more quickly to the rapidly changing toy industry and compete more effectively with no. 1 rival Wal-Mart Stores Inc. and other discounters, analysts and vendors said.
The investment group — which consists of affiliates of Kohlberg Kravis Roberts & Co., Bain Capital Partners LLC, and Vornado Realty Trust — has not given details about how they will change the struggling toy retailer. But the industry is generally optimistic that whatever they decide to do, it will help the toy business as a whole.
"Today's announcement added new life into the toy business," said Jim Silver, publisher of the Toy Book, a New York-based industry magazine.
He added, "I can envision Toys R Us becoming a family entertainment store, where you can buy an iPod or an entry-level digital camera. It will be a one-stop shop" for children and their parents.
Chris Byrne, a New York-based independent toy consultant, noted that the investment group will help transform the company into a more viable store for today's parents. He said a privately-held Toys R Us also would help the company be more nimble.
"It will help them become a more streamlined operation with diverse products, not just toys, but lifestyle products," Byrne said.
Since Toys R Us announced it was for sale seven months ago, toy makers were on edge. They depend on Toys R Us since it carries a much wider breadth of toys compared to discounters, and constantly tests hot toys.
"There was so much speculation about the future of Toys R Us, but this puts an end to it," said Harold Chizick, vice president of promotional marketing at toy maker Spin Master Ltd.
Toys R Us shares rose $1.23, or almost 5 percent, to close at $26.00 Thursday on the New York Stock Exchange.
Silver said many toy companies were worried that an investment group led by Cerberus Capital Management LP would emerge as the winner. He said Cerberus was expected to cut several hundred Toys R Us stores, while KKR is seen wanting to keep the retailer as an ongoing, viable business even as it makes it leaner.
Silver expects about 20 percent of the company's U.S. toy division — or about 140 stores — will be closed, which may depress the retailer's sales volume by 10 percent.
The purchase of Toys R Us was inevitable given the gloomy prospects of the toy business, which has struggled with declining sales for the past two years. Toy sales have been hurt by discounters' pricing wars, which contributed to the bankruptcies of specialty chains such as KB Toys Inc., and FAO Schwarz last year. Under new ownership, FAO Schwarz is focusing on high-end merchandise.
But the toy industry is also struggling with a host of alternatives that grab children's attention, from cellphones to digital music players. In response, toy companies are expanding beyond toys into home decor and children-friendly gadgets like affordable cellphones.
Toys R Us has made steps to develop more exclusive products with toy makers, become more competitive on price, and make the stores look more inviting, particularly since last August. Toys R Us gained market share this past holiday season, according to company officials, though holiday toy sales fell 1.4 percent.
Local journalism is essential.
Give directly to The Spokesman-Review's Northwest Passages community forums series -- which helps to offset the costs of several reporter and editor positions at the newspaper -- by using the easy options below. Gifts processed in this system are not tax deductible, but are predominately used to help meet the local financial requirements needed to receive national matching-grant funds.
Subscribe now to get breaking news alerts in your email inbox
Get breaking news delivered to your inbox as it happens.
---