News > Features
Well, redneck or not, Ashton still is just a punk
Fri., March 18, 2005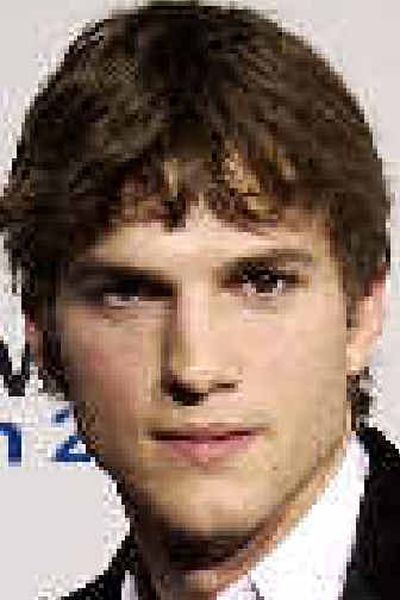 Ashton Kutcher rubbed a few folks the wrong way while serving as the honorary starter at last month's Daytona 500.
It all started when NASCAR officials informed him that there was a dress code for the person who drops the flag."They told me that I couldn't wear blue jeans to the race. They said I had to wear khaki pants and like business attire," he says.
"So I'm in the (pre-race) press conference and I'm telling 'em about it and I'm like, 'This is like the most redneck sport on the planet, and I can't wear blue jeans!'
"And when I said 'redneck,' they (gasped) like I was saying something horrible. I'm like, 'No! I'm a redneck. It's OK!' But I've never watched a race in khakis before."
Kutcher, host of the MTV prank show "Punk'd," soon will finish his seven-year run as disco-era dimwit Kelso on "That '70s Show."
His movie comedy "Guess Who," a takeoff on the 1967 interracial-dating classic "Guess Who's Coming to Dinner," arrives March 25.
ABC to Louis: You're Trumped
ABC has found its Donald Trump – more or less.
Justin Louis, former star of such series as Lifetime's "Missing" and NBC's "Hidden Hills," will play The Donald in a TV biopic which begins filming in Toronto on Monday. It's expected to air in May.
Katheryn Winnick ("Student Bodies," "The It Factor") will play Ivana Trump, while Jennifer Baxter ("America's Prince: The John F. Kennedy Jr. Story") has been cast as Marla Maples.
A new wiseguy for Falco
"The Sopranos" star Edie Falco has adopted a baby boy, her agent announced.
Falco, 41, took the infant home in December, within days of his birth. She named him Anderson, her mother's maiden name.
The three-time Emmy winner was diagnosed with breast cancer last year but was successfully treated.
Now, for some soul baby food
Former "Soul Food" stars Boris Kodjoe and Nicole Ari Parker welcomed their first child, Sophie Tei-Naaki Lee Kodjoe, on Saturday.
She weighed 8 pounds, 2 ounces. Tei-Naaki is Ghanian for "first-born daughter."
Kodjoe and Parker plan to wed in May.
Timberlake is a bit shallow
Philadelphia soul-singing legends The O'Jays were less than impressed when former 'N Sync boy bander Justin Timberlake was chosen to induct them into the Rock and Roll Hall of Fame this week.
"We protested, kicked and stomped," said band member Eddie Levert. "But it's out of our control."
Added bandmate Walter Williams: "No offense to Justin, because he deserves the respect he has earned, but I could think of a few people who know more about our pain and suffering and history."
Quoteworthy
Bruce Springsteen, poking fun at Bono during U2's induction into the Rock and Roll Hall of Fame: "One of the best and most endearingly naked messianic complexes in rock 'n' roll. It takes one to know one."
The birthday bunch
Actor Peter Graves is 79. Country singer Charley Pride is 67. Singer Wilson Pickett is 64. Actor Kevin Dobson ("Knots Landing") is 62. Actor Brad Dourif ("Lord of the Rings," "Chucky" movies) is 55. Actor Thomas Ian Griffith ("Vampires") is 43. Singer Vanessa Williams is 42. Guitarist Jerry Cantrell (Alice in Chains) is 39. Rapper-actress Queen Latifah is 35.
Local journalism is essential.
Give directly to The Spokesman-Review's Northwest Passages community forums series -- which helps to offset the costs of several reporter and editor positions at the newspaper -- by using the easy options below. Gifts processed in this system are not tax deductible, but are predominately used to help meet the local financial requirements needed to receive national matching-grant funds.
Subscribe now to get breaking news alerts in your email inbox
Get breaking news delivered to your inbox as it happens.
---