News > Idaho
Bear sculpture sale to benefit library
Sat., March 19, 2005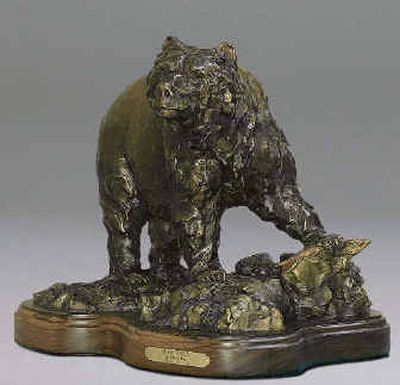 Although the bond issue to add $3 million in public funding toward a new Coeur d'Alene Public Library passed on Feb. 1, the Coeur d'Alene Library Foundation is still raising money toward fulfilling the goal of a state-of-the-art public library.
Local artist Terry Lee is doing his part to help with his creation of a bronze bear sculpture called "Bear Tales." Only 100 of the sculptures will be made, selling at $2,000 each, with all proceeds benefiting the library foundation.
Ruth Pratt, the foundation's development coordinator, said said between $500,000 and $800,000 in grants and private funds is still needed to complete the project. "We want to be ready to put the project out to bid in fall, hopefully," Pratt said.
There will be a donor wall in the library, where folks can show their support, and then there are the bears.
"They're kind of like a mascot for the library," Pratt said.
Twenty of the sculptures have been sold so far, and everybody who has bought one loves their bear, Pratt said. George House, who owns Papa Murphy's, has his right up front at the pizza store. Pratt said that two of the sculptures have been raffled.
Lee and his sister, Deanna Goodlander, a Coeur d'Alene City Council member who is the council's liaison with the library, developed the idea for "Bear Tales." The sculpture depicts a mighty grizzly with a fish beneath one paw, and the bear showing a hint of a sly smile on its face. Underthe bruin's body rests a book with "Bear Tales" on the cover.
Lee, who has been a full-time artist for 10 years, has become known internationally for his wildlife paintings and sculptures. Art has been of interest to him since he was a young man, and the "romance" of being an artist was always there. He wanted to be able to make a living at art.
"Back in the '70s and '80s that wasn't possible," Lee said. "Art wasn't taken very seriously, abstract art was a big deal, and I didn't know any artists that were actually making a living."
He said that at one time he was working three different jobs, in San Diego, trying to make a living.
"I did a lot of things and was not happy with any of them," Lee said. "None of them were fulfilling in any way, shape or form."
After the San Diego experience he decided that if he could just make $20,000 a year being an artist, he'd be a happier man. He returned to Coeur d'Alene. Now, an average Terry Lee painting sells for between $5,000 and $12,000.
Lee said it is essential to practice to develop any skill. He knew from taking some classes that if you can draw and paint the human figure, you can draw and paint anything. He invited other artists to share the cost of hiring a model to pose, and one of the artists that came to his studio was George Carlson. Carlson, who lives at Black Lake and has his studio in Harrison, is a renowned sculptor. Lee really didn't know who Carlson was at the first meeting, but now he considers him a mentor.
"After about four or five months of drawing, George told me if I sculpt it, I would draw it better," Lee said. "Painting, drawing, art basically is learning to see. We look at things, but we don't see it. The development of training your eye to see can work as well in the three mediums, painting, drawing and sculpting."
An edition of 100 sculptures is considered a large edition. After the costs for the foundry, which is in Hayden, the foundation stands to make $100,000 once all the bear sculptures are sold. Lee said the retail pice on the sculptures would be $2,500, so not only are the buyers getting a deal, they are also helping out a good cause.
The foundation orders about 10 of the bears at a time, as they take eight weeks to make at the foundry. Once all copies in the edition of "Bear Tales" are sold, the mold will be broken, and each buyer will receive a piece of it.
Local journalism is essential.
Give directly to The Spokesman-Review's Northwest Passages community forums series -- which helps to offset the costs of several reporter and editor positions at the newspaper -- by using the easy options below. Gifts processed in this system are not tax deductible, but are predominately used to help meet the local financial requirements needed to receive national matching-grant funds.
Subscribe now to get breaking news alerts in your email inbox
Get breaking news delivered to your inbox as it happens.
---