Sports
Edwards learns in hurry with victory
Sun., March 20, 2005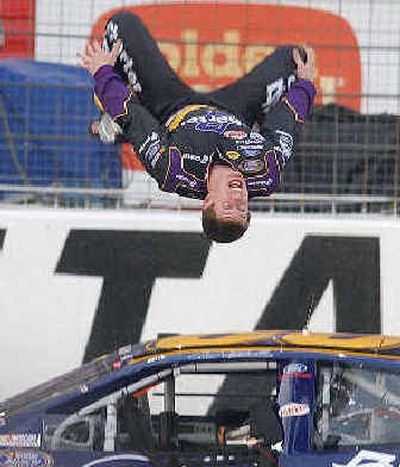 Carl Edwards is trying to speed up his learning curve by racing in two grueling series at the same time.
So far, his busy schedule is working out just fine.
Edwards raced to his first NASCAR Busch Series win Saturday, holding off several Nextel Cup stars in the Aaron's 312 at Atlanta Motor Speedway in Hampton, Ga.
Afterward, he came to a stop in front of the main grandstand, climbed out of his Ford and did one of his patented backflips onto the asphalt, delighting the crowd.
"This is the biggest win of my career," Edwards said. "I was just happy to win. That's a good way to show it."
Edwards, who spent most of 2004 in the truck series, moved up to Roush Racing's Nextel Cup team late in the season. He showed plenty of promise with five top-five finishes in 13 races.
This year, the 25-year-old Missouri driver is running a full schedule in both Busch and Nextel Cup, accelerating his experience level in stock cars.
Clearly, he's not bothered by the hectic pace. Edwards is fifth in the Nextel Cup standings, and the victory pushed him to the lead in the Busch Series.
"Every year, there's a rookie who stands out and shows he has a lot of talent and skill," said Tony Stewart, who finished more than a second back. "This is a guy who kind of skipped the Busch level. Now he's got the opportunity to run both series. He's learning a lot."
Indy Racing League
After a frustrating first season with Marlboro Team Penske, two-time Indy Racing League champion Sam Hornish Jr. is back in Victory Lane and back on top of the IndyCar Series points.
After finishing second in the season-opening race two weeks ago at Homestead, Hornish backed it up with a victory in the XM Satellite Radio Indy 200 at Phoenix International Raceway in Avondale, Ariz..
With Hornish holding a slim lead over Dario Franchitti after the last of four caution flags in the 200-lap event, the Scotsman tried an outside move on the restart on lap 199 and wound up sliding and scraping the concrete wall in turn two. Hornish raced on to his 13th career win.
Local journalism is essential.
Give directly to The Spokesman-Review's Northwest Passages community forums series -- which helps to offset the costs of several reporter and editor positions at the newspaper -- by using the easy options below. Gifts processed in this system are not tax deductible, but are predominately used to help meet the local financial requirements needed to receive national matching-grant funds.
Subscribe to the sports newsletter
Get the day's top sports headlines and breaking news delivered to your inbox by subscribing here.
---