Sports
Nelson resigns as Dallas coach because of 'slippage'
Sun., March 20, 2005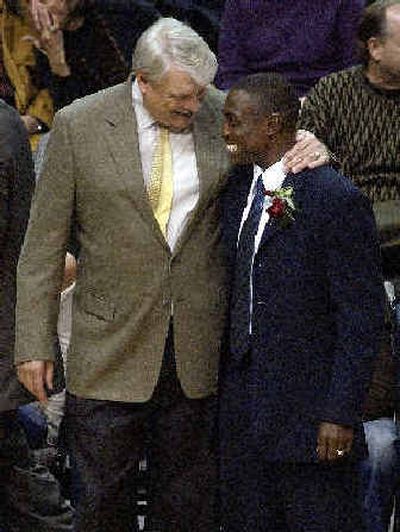 DALLAS – Don Nelson, the second-winningest coach in NBA history, resigned as coach of the Dallas Mavericks on Saturday and turned over the team to protege Avery Johnson.
"I see a little slippage as a team," Nelson said. "The team is just responding better to Avery at this point."
The 64-year-old Nelson also had the title of general manager, but most of those duties were done by his son, Donnie, the team's president of basketball operations. The elder Nelson will stay with the team as a consultant.
"Nellie has earned the right to approach this any way he wants," team owner Mark Cuban said. "I just wanted to be supportive of any direction he wants to go."
Nelson leaves with a career record of 1,190-880 over 27 seasons, including stints with Milwaukee, Golden State and the New York Knicks. Only Lenny Wilkens has won more games as a coach – 1,332. Wilkens stepped down as coach of the New York Knicks earlier this season.
Although he never won a championship, or even made it to the NBA Finals, Nelson was considered a master of mismatches who won games early in his career by stressing defense then later made a mark with clubs that tried outscoring everyone.
"I've worked as hard as anyone, and it hasn't happened," Nelson said of never winning a title. "That's just the way it is."
Nelson went 339-251 in Dallas, tops in franchise history both in wins and winning percentage. It's more impressive considering he started 35-81 before going 40-42 in 2000.
"I just think it's time," Nelson said, showing little emotion. "We want to win games and we want to get better, and I didn't see us doing either of the above since the All-Star game."
Dallas went into Saturday night's home game against Charlotte 42-22. The Mavericks are in good position to get the fourth seed in the Western Conference playoffs. But Dallas is 7-6 since the All-Star break.
Johnson already has coached the team for 13 games this year, going 9-4. His first stint came when Nelson had shoulder surgery. He recently took over when Nelson took time off to be with his wife after she had an operation. Johnson has also run practices since training camp and had some test runs as the coach with Nelson serving as his assistant.
When Johnson coached the Mavs, he stressed defense. Nelson's emphasis was offense. The mixed message could be part of the reason Dallas has struggled recently, especially at home.
"We're going to keep moving forward," Johnson said. "We're not trying to abandon the things that Coach has implemented here, but there are some things that I feel a little stronger about."
Local journalism is essential.
Give directly to The Spokesman-Review's Northwest Passages community forums series -- which helps to offset the costs of several reporter and editor positions at the newspaper -- by using the easy options below. Gifts processed in this system are not tax deductible, but are predominately used to help meet the local financial requirements needed to receive national matching-grant funds.
Subscribe to the sports newsletter
Get the day's top sports headlines and breaking news delivered to your inbox by subscribing here.
---