Sports
Like elephants, Illini fans don't forget (or forgive)
Mon., March 21, 2005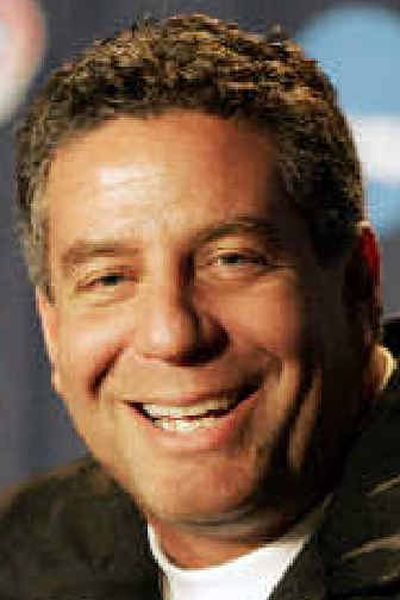 Still making news, former Illinois star Deon Thomas scored 13 points and grabbed eight rebounds last Thursday night in an Israeli professional basketball league game to help Maccabi Tel Aviv advance in the Premier Division playoffs.
Thomas, now 34 and an Israeli citizen, hit all six of his shots in 23 minutes off the bench.
Thomas' present basketball career now may warrant a headline abroad, but expect part of his past to be dissected daily in his hometown until Thursday's tipoff at the AllState Arena pitting the Illini against the University of Wisconsin-Milwaukee in the NCAA Tournament's Chicago Regional semifinal.
The juicy story line has shifted from Illinois' burden of being the No. 1 team in the country to the grudge matchup between Wisconsin-Milwaukee coach Bruce Pearl and the program he blew the whistle on 15 years ago after a secretly taped conversation with Thomas.
It was Thomas who allegedly told Pearl, then an Iowa assistant coach, then-Illinois assistant coach Jimmy Collins had offered the prep star $80,000 and a Chevrolet Blazer to sign with the Illini. Pearl turned over the tape of that conversation to the NCAA as part of its probe into wrongdoing in former coach Lou Henson's program.
Thomas and Collins adamantly denied the allegations after the NCAA slapped Illinois with a two-year probation in 1990 that included scholarship and recruiting restrictions and a ban from the 1991 NCAA Tournament. The NCAA report never specifically mentioned Pearl's allegation, and many around the Big Ten believed other head coaches, such as Bob Knight, had shared information that played a bigger role in the NCAA's decision.
Thomas later filed a civil lawsuit against Pearl, claiming he violated state and federal eavesdropping laws, but the case eventually was dismissed. At the time, Dick Vitale blasted Pearl on national television for committing "career suicide," and many members of the coaching fraternity shunned him for breaking an unwritten code.
Collins, now the coach at Illinois-Chicago, holds a grudge to the extent he still refuses to shake hands with Pearl after Horizon League games.
Thursday will mark the first time Pearl has coached against Illinois in 13 seasons as a head coach. But it is fair to say that in Champaign fans have neither forgiven nor forgotten and their memories of Pearl's act are as fresh as the image of Dee Brown on Sports Illustrated's cover.
Asked after Illinois' victory over Nevada what he would say to Illini fans still angry at Pearl, coach Bruce Weber tried to keep the focus on the challenge of beating a 12th-seeded team playing well enough to surprise Alabama and Boston College.
"(I'd tell them) we have to be ready to play and hope we get a win because they're not going to be happy if we don't," Weber said. "It's old history, and we can't worry about that."
Sumpter sidelined?
Villanova forward Curtis Sumpter stood in the locker room assuring reporters that his left knee was fine. His coach wasn't so optimistic.
The Wildcats defeated Florida in the second round of the NCAA Tournament and advanced to the Syracuse Regional semifinals, where they might be without Sumpter against top-seeded North Carolina.
Villanova coach Jay Wright is assuming the worst.
"He hasn't had any X-rays or anything, so we don't know how serious. But I think it's pretty serious. I'm guessing right now. I know if there was any way he could play, that kid would play," Wright said.
And the band played on
The Bucknell Bison almost didn't have a band to play their fight song.
With the school on spring break, Bucknell's regular band couldn't be rounded up to make the trip to Oklahoma City. The Northern Iowa band filled in during the first round but their team lost so they went home, forcing Bucknell officials to scramble on Saturday – and into Sunday.
School officials struck out trying to borrow bands from several high schools and colleges because they were on spring break, too. That left them with one last hope: Oklahoma State's band, which already was in the arena because their team was playing the game before Bucknell's.
After some initial hesitation, the school agreed. The musicians seemed to enjoy it, making a big show for TV cameras when they pulled orange Bucknell T-shirts over their OSU garb.
The Bison's NCAA Tournament run ended with a 71-62 loss to Wisconsin.
Had to end sometime
Louisville forward Francisco Garcia's streak of making free throws ended in the first half Sunday against Georgia Tech.
Garcia has gone through 19 games this season without missing at the line, and he hadn't missed in 40 straight attempts dating back to the end of the first half of a victory over South Florida on Feb. 12. Then he stepped to the line for the second time Sunday, and missed with 11:46 to go. He finished 8 for 10 at the line.
It was all part of a dazzling performance from the junior from the Bronx. He scored 18 of his 21 points in the first half, blocked four shots, had two assists and a rebound all while playing all 40 minutes of the game.
Local journalism is essential.
Give directly to The Spokesman-Review's Northwest Passages community forums series -- which helps to offset the costs of several reporter and editor positions at the newspaper -- by using the easy options below. Gifts processed in this system are not tax deductible, but are predominately used to help meet the local financial requirements needed to receive national matching-grant funds.
Subscribe to the sports newsletter
Get the day's top sports headlines and breaking news delivered to your inbox by subscribing here.
---