Sports
Arizona sends Cowboys riding into sunset
Fri., March 25, 2005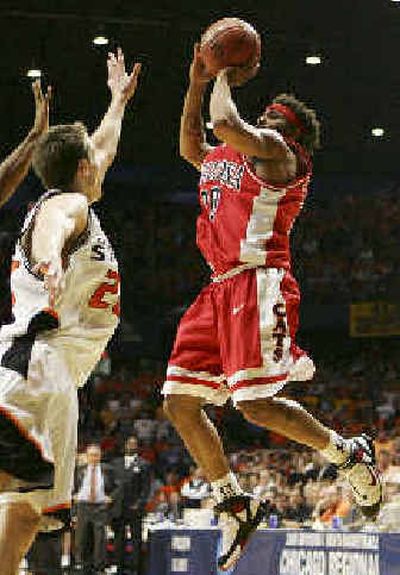 ROSEMONT, Ill. — Oklahoma State head coach Eddie Sutton refuted CBS's assertion that Thursday night's game was his last.
Given his reputation for fielding good defensive teams, he probably doesn't want to be remembered for a night in which his team seemed helpless to stop Arizona.
It was almost expected when Wildcats star Salim Stoudamire's pullup jumper from the left wing with 2.8 seconds left gave his team a pulsating 79-78 victory at Allstate Arena in the Chicago region semifinals.
No. 3 seed Arizona (30-6) shot a blistering 66-percent and now faces 35-1 Illinois on Saturday night, with the winner going to the Final Four.
"I knew when it came down to crunch time, I was going to step it up," said Stoudamire, who sat out 10 minutes of the first half because of foul trouble, but finished with 19 points, seven assists and no turnovers.
"I thrive in those situations. That's what I live for. I think big-time players thrive in those situations, and I see myself as that kind of player."
After Stoudamire's shot, Oklahoma State in-bounded to midcourt. With a foul to give, Arizona fouled senior John Lucas. On the final in-bounds play, Lucas caught the ball in the left corner and missed a fade-away.
"When I let it go, I thought it was going in," Lucas said. "But when the ball hit the back of the rim, my heart just dropped because that was my last game in an Oklahoma State jersey."
The Pac-10 is often criticized as a finesse league, with its teams ill-equipped to face physical teams like Oklahoma State.
But the Cowboys rarely got close enough to get physical, as the Wildcats put on a passing, cutting and pick-and-roll clinic.
Every time Oklahoma State mounted a run, the Wildcats answered with a flurry of baskets. More often than not, they were layups or dunks.
"We take great pride in our defense, and tonight they shot lights-out," Sutton said. "I think they've got a great chance to beat Illinois."
With six of his top eight players graduating, conjecture that the 69-year-old Sutton might retire was understandable. The school announced early this season that son Sean would take over upon Eddie's retirement.
"I'm going to miss those guys, and we're going to have a young group next year, that's why I'm not retiring," Sutton said. "I don't want to have Sean in that position. If we take some hits, I want to be the one who takes them."
The Wildcats took a 23-13 lead behind eight early points by Stoudamire, but he picked up his second foul and coach Lute Olson sat him for the last ten minutes of the half. Lucas and Joey Graham had nine each in the first half.
Arizona 79, Oklahoma St. 78
Arizona (30-6)–Adams 8-12 0-0 19, Radenovic 5-5 3-5 13, Frye 7-12 1-2 15, Shakur 0-1 4-6 4, Stoudamire 7-11 1-2 19, McClellan 2-2 0-0 4, Rodgers 2-4 1-2 5, Walters 0-0 0-0 0. Totals 31-47 10-17 79.
Oklahoma State (26-7)–J.Graham 9-19 5-6 26, McFarlin 6-12 3-3 15, Curry 4-9 0-0 11, Lucas 5-15 1-1 13, Bobik 3-7 0-0 8, S.Graham 2-3 1-1 5, Crawford 0-1 0-2 0. Totals 29-66 10-13 78.
Halftime—Arizona 41, Oklahoma State 38. 3-Point Goals—Arizona 7-14 (Stoudamire 4-7, Adams 3-4, Frye 0-1, Rodgers 0-2), Oklahoma State 10-23 (J.Graham 3-5, Curry 3-6, Bobik 2-5, Lucas 2-7). Fouled Out—None. Rebounds—Arizona 31 (Adams, Frye 10), Oklahoma State 27 (J.Graham 8). Assists—Arizona 17 (Stoudamire 7), Oklahoma State 17 (Curry 7). Total Fouls—Arizona 17, Oklahoma State 17. A—16,957.
Local journalism is essential.
Give directly to The Spokesman-Review's Northwest Passages community forums series -- which helps to offset the costs of several reporter and editor positions at the newspaper -- by using the easy options below. Gifts processed in this system are not tax deductible, but are predominately used to help meet the local financial requirements needed to receive national matching-grant funds.
Subscribe to the sports newsletter
Get the day's top sports headlines and breaking news delivered to your inbox by subscribing here.
---