A&E > Entertainment
'Congeniality' sequel scores hits and misses
Fri., March 25, 2005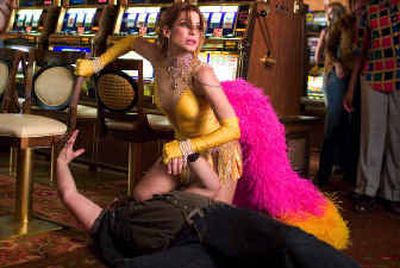 When "Miss Congeniality" was released in 2000, it seemed pretty franchiseproof.
The comedy followed an FBI agent (Sandra Bullock) who enters a world of fearsome girliness when she goes undercover to investigate a plot against a beauty contest. The frumpy crime-fighter is remade into a fashion-savvy princess, and she saves the day while looking great.
End of story, right? Well, no. Profits rolled in, and nowadays even a modest amount of black ink yields a second chapter.
Since the filmmakers already had cycled through the drab-to-glam scenario, they cooked up a new challenge for Bullock's character. She is teamed with a hostile partner, Sam (Regina King of "Ray"), to investigate a kidnapping in Las Vegas.
If "Miss Congeniality" was like "My Fair Lady" with firearms, consider the follow-up "Lethal Weapon" in sequins.
Directed by John Pasquin ("The Santa Clause"), "Miss Congeniality 2: Armed and Fabulous" is set three weeks after Gracie (Bullock) made headlines foiling a plot to sabotage the Miss United States pageant. The Jersey girl is back to her unkempt old self and trying to resume business as usual, going incognito to nab bad guys. But she's too high-profile to continue working undercover, as a sting operation is compromised by a fan seeking an autograph.
She isn't doing too well in the boyfriend department either. The agent (Benjamin Bratt) who romanced her during her pageant days dumps her over the phone, leading to an amusing display of angst involving a microwave chicken pot pie.
Gracie's boss (Ernie Hudson) puts her on public relations detail, hoping – with the help of stylist Joel (Diedrich Bader) – that her fame will boost recruitment. She's lured away from her PR duties when Miss United States (Heather Burns) and her escort (William Shatner) are kidnapped.
The strongest scenes are the ones in which Gracie, Sam and Joel quest for clues in wild disguises. In one sequence, Gracie and Sam take the stage at an open mike drag night, rocking the crowd with a rendition of Tina Turner's signature "Proud Mary."
The jokes are hit or miss, but the appealing teamwork of Bullock and King gives the movie gleam. Here's hoping this sequel helps them bridge into projects worthier of their talents.
Local journalism is essential.
Give directly to The Spokesman-Review's Northwest Passages community forums series -- which helps to offset the costs of several reporter and editor positions at the newspaper -- by using the easy options below. Gifts processed in this system are not tax deductible, but are predominately used to help meet the local financial requirements needed to receive national matching-grant funds.
Subscribe to the Spokane7 email newsletter
Get the day's top entertainment headlines delivered to your inbox every morning.
---