News > Business
Experts: Higher rates to cool housing market
Fri., March 25, 2005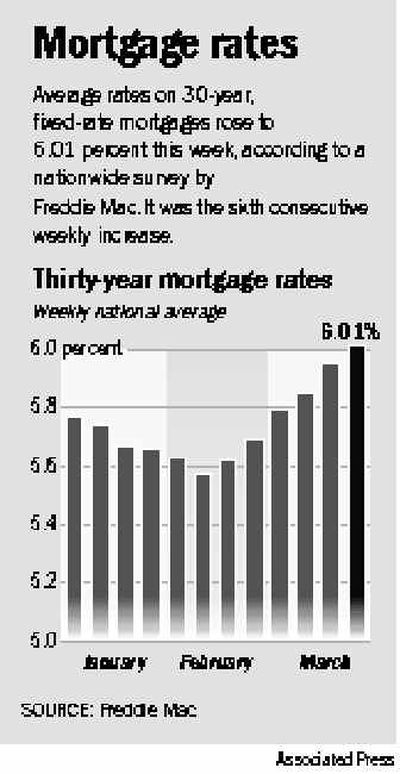 WASHINGTON — Rising mortgage rates will cool but not crush a national housing market that is still relatively hot, one of the economy's consistently good performers.
That's the feeling among industry experts who have marveled over housing's vibrancy — all the way through the 2001 recession as well as the economy's recovery. Powered by low mortgage rates, sales of both new and previously owned homes clocked record highs four years in a row — from 2001 to 2004.
Sales are expected to slow this year as mortgage rates move higher. For now, economists are predicting the rate climb will be smooth, leaving the housing market in good shape. In fact, current projections call for home sales for all of 2005 to post their second-best year on record.
"I still have a smile on my face," Tom Kunz, president of Century 21 Real Estate Corp., said in an interview. "We still have a pretty hot market."
Sales of previously owned homes — which account for roughly 85 percent of total home sales — dipped by just 0.4 percent in February, but the pace was still considered buoyant. New-home sales soared 9.4 percent, the biggest increase since December 2000, the government said Thursday.
If mortgage rates were to shoot through the roof — which isn't anticipated — then the housing market would be sent skidding, and the economic expansion could be derailed.
There's been a recent pickup in mortgage rates. Rates on 30-year, fixed-rate mortgages this week rose to 6.01 percent — the highest since late July — according to a weekly, nationwide survey of mortgage rates by Freddie Mac, the mortgage giant. Last week, 30-year rates averaged 5.95 percent.
This week's rise was the sixth straight, with investors' fears about inflation pushing long-term rates higher.
Two government reports this week showed inflation gaining momentum. That, along with concerns about rising inflation expressed by Federal Reserve policy-makers earlier this week, fed investors' inflation jitters.
The Fed's inflation comments might have been aimed at putting financial markets on notice that a key short-term interest rate, controlled by the Fed, will keep moving up this year and possibly well into 2006, some economists said.
The Fed lifted that key rate Tuesday to 2.75 percent, its seventh quarter-point boost since its current rate-raising campaign began last June. Investors might have been underestimating where the Fed's key rate was heading, and Fed policy-makers sought to alter that view, some economists said.
Federal Reserve Chairman Alan Greenspan earlier this year had expressed puzzlement over why long-term interest rates, such as mortgage rates, hadn't been rising even as the Fed boosted short-term rates. He called the situation a "conundrum."
Economists in the mortgage banking, residential real-estate and home building industries predict rates on 30-year mortgages will rise to around 6.75 percent by the end of the year. Other economists think it could close in on 7 percent. By historical standards, those rates would still be considered good, analysts said.
"For me, it's the speed at which rates rise that is important. If rates were to go up rapidly and pass 7.5 percent, that would bother me," said Doug Duncan, chief economist at the Mortgage Bankers Association.
Most American homeowners have fixed-rate mortgages so their payments are locked in and wouldn't be affected by run-up in rates, Duncan said.
However, about 14 percent of the roughly 73 million home-owning households have adjustable-rate mortgages, and would be affected. "Those tend to be upper-income households, who are likely to handle that pretty well," Duncan said.
For all of 2005, sales of previously owned homes are expected to total 6.57 million, about 3.2 percent down from 2004's all-time high sales, the National Association of Realtors says.
Local journalism is essential.
Give directly to The Spokesman-Review's Northwest Passages community forums series -- which helps to offset the costs of several reporter and editor positions at the newspaper -- by using the easy options below. Gifts processed in this system are not tax deductible, but are predominately used to help meet the local financial requirements needed to receive national matching-grant funds.
Subscribe now to get breaking news alerts in your email inbox
Get breaking news delivered to your inbox as it happens.
---