Sports
Illinois guarded as it tops UWM, 77-63
Fri., March 25, 2005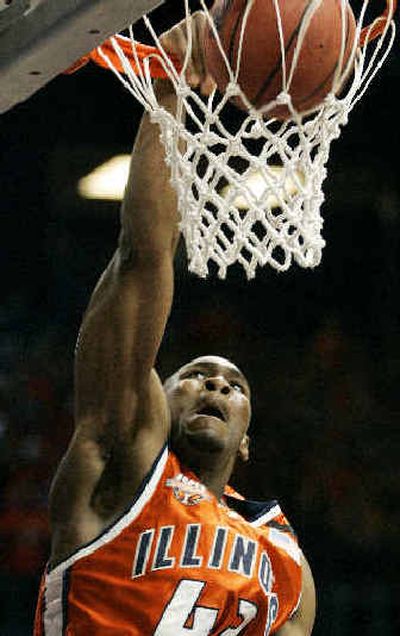 ROSEMONT, Ill. — Standing at midcourt, Deron Williams and Dee Brown grinned at each other and slapped hands.
It's tough enough stopping one of Illinois' standout guards when he's having a good night. Make it two, and that's just not a fair fight.
Williams and Brown gave upstart Wisconsin-Milwaukee all that it could handle and then some Thursday night, combining for 42 points, 10 assists and some nasty defense to lead Illinois to a 77-63 victory and a spot in the Chicago Regional finals.
Williams had 21 points on 8-of-12 shooting and eight assists. Brown scored 15 of his 21 from 3-point range, and had two assists and two steals. Roger Powell Jr. and Luther Head added 12 each, and James Augustine finished with 11.
The top-seeded Illini (35-1) will play Arizona, a winner over Oklahoma State, on Saturday for a chance to go to their first Final Four since 1989.
Joah Tucker led UWM (26-6) with a career-high 32 points, but he was essentially a one-man offense. UWM shot 39 percent, and leading scorer Ed McCants was 4 of 17 for 13 points.
The victory was some payback for Illinois fans, who still harbor a grudge against UWM coach Bruce Pearl for the role he played in a recruiting scandal some 15 years ago. Pearl gave the NCAA a tape of a secretly recorded phone call in 1989, touching off a 16-month investigation. The Illinois fans booed Pearl.
Brown and Williams were just too savvy for the Panthers to contain for long. With UWM trailing 29-26 with 3 minutes left in the first half, Williams worked the shot clock, dribbling around the top of the key, his eyes scanning the entire floor.
Finally, with only 4 seconds left on the clock, he drove forward and dished to a wide-open Powell under the basket. Powell laid it up for two. Illinois forced turnovers on the next two possessions, and Brown hit a 3 and Powell made a layup to give Illinois a 36-26 lead with 2:24 left.
Williams extended the lead in the second half, scoring on three straight possessions. He was hacked from behind as he went up for a layup, and made one free throw. He then scored on a fast-break layup — fed by Brown after a steal — and finished the run with a 3 to give Illinois a 51-37 lead with 16:29 to play.
Tucker converted a three-point play, but Williams was right there again, hitting a 3 from the top of the key to push the lead back to double digits. Illinois led by as much as 17.
Illinois improved to 10-1 at Allstate Arena and 3-0 against the Panthers.
Illinois 77, Wis.-Milwaukee 63
Wisconsin-Milwaukee (26-6)–Tucker 12-18 6-8 32, Tigert 1-6 0-0 2, Hill 0-3 2-3 2, McCants 4-17 1-2 13, B.Davis 3-9 2-2 9, Pancratz 0-0 0-0 0, McCoy 1-3 1-2 3, Wright 1-1 0-1 2. Totals 22-57 12-18 63.
Illinois (35-1)–Augustine 3-3 5-6 11, Powell Jr. 5-11 2-2 12, Head 5-15 0-1 12, Williams 8-12 3-4 21, Brown 7-12 2-2 21, McBride 0-1 0-0 0, Carter 0-1 0-0 0, Smith 0-0 0-0 0, Ingram 0-2 0-0 0. Totals 28-57 12-15 77.
Halftime—Illinois 39, Wisconsin-Milwaukee 32. 3-Point Goals—Wisconsin-Milwaukee 7-29 (McCants 4-14, Tucker 2-3, B.Davis 1-5, McCoy 0-1, Hill 0-3, Tigert 0-3), Illinois 9-20 (Brown 5-8, Head 2-5, Williams 2-5, McBride 0-1, Powell Jr. 0-1). Fouled Out—None. Rebounds—Wisconsin-Milwaukee 35 (Tigert 7), Illinois 33 (Augustine 10). Assists—Wisconsin-Milwaukee 12 (Hill 4), Illinois 20 (Williams 8). Total Fouls—Wisconsin-Milwaukee 12, Illinois 20.
Local journalism is essential.
Give directly to The Spokesman-Review's Northwest Passages community forums series -- which helps to offset the costs of several reporter and editor positions at the newspaper -- by using the easy options below. Gifts processed in this system are not tax deductible, but are predominately used to help meet the local financial requirements needed to receive national matching-grant funds.
Subscribe to the sports newsletter
Get the day's top sports headlines and breaking news delivered to your inbox by subscribing here.
---