A&E > Entertainment
Landmark blues man Taj Mahal hits The Met
Fri., March 25, 2005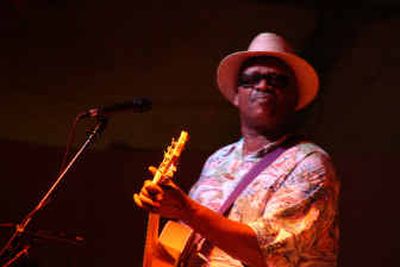 Henry St. Claire Fredericks, better known as Taj Mahal, took piano lessons for two weeks before his teacher set him loose.
"My teacher said to my mother, 'It's just not possible. He already has an idea for what he wants to play. There's nothing that I can teach him,' " Mahal said from Berkeley, Calif., where he was visiting his daughter. He keeps secret the location of his home base.
Since he was left to teach music to himself, he's learned to play more than 20 instruments, though he's primarily known as an acoustic blues guitarist. He still can't read music, but that hasn't stopped him from recording dozens of albums and working as a studio musician. "I don't read music, but I could teach an orchestra to play, myself," the 52-year-old said.
The Taj Mahal trio – he, bassist Bill Rick and drummer Kester Smith – play a 7:30 p.m. show Thursday at The Met. Tickets are available for $32 and $37 through TicketsWest, (800) 325-SEAT or www.ticketswest.com.
In the early '60s, Mahal was part of The Rising Sons, a Los Angeles blues band that included Ry Cooder, now famous for introducing audiences to Cuban music through the Buena Vista Social Club. The band opened for headliners such as Otis Redding and The Temptations.
Mahal's self-titled solo debut, released in 1967, featured an amalgamation of musicians from different ethnicities. "We were a mixture of what America was all about, red, black and white," Mahal said.
He considers the band's electric guitarist, the late Jesse Edwin Davis, a Comanche Indian, "one of the most underrated electric guitar players of the century." Audiences weren't accustomed to such diversity on stage.
"People used to be absolutely astounded," he said. "It meant a lot to Native kids to see one of their own in the band."
Mahal, who was raised in Springfield, Mass., has spent a large portion of his career familiarizing himself with the roots of American music, leading him largely to Africa and the Caribbean. The influence augments familiar jazz and blues sounds, but it's nothing he can put a label on.
"Where my ancestors come from," he said, "there is no name for music. Folk funk? No, I don't think so. It's more than folky. It's more than funky. It's roots force music."
His Web site, www.tajblues.com, denotes a bit more accessible genre.
Local journalism is essential.
Give directly to The Spokesman-Review's Northwest Passages community forums series -- which helps to offset the costs of several reporter and editor positions at the newspaper -- by using the easy options below. Gifts processed in this system are not tax deductible, but are predominately used to help meet the local financial requirements needed to receive national matching-grant funds.
Subscribe to the Spokane7 email newsletter
Get the day's top entertainment headlines delivered to your inbox every morning.
---