A&E > Entertainment
No Quarter rocks Led Zeppelin style at Big Easy show
Fri., March 25, 2005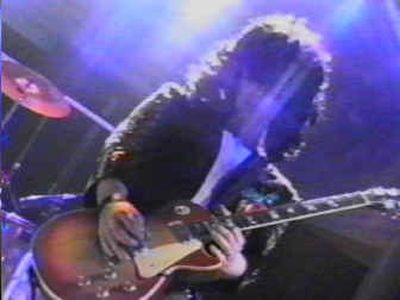 If the music and mystique of Led Zeppelin were a movie, No Quarter would be the made-for-TV remake.
Transcending the role of a cover band, the members of Seattle-based No Quarter call themselves a "tribute" and act out the roles of hard-rock's most legendary band in their live show.
"The cover bands are your typical guys out there doing a good job. We're trying to look like (Led Zeppelin), sound like them and replicate the specific show that they did," said Chad McMurray, who plays John Paul Jones (bass, keyboards, acoustics). "We study the behaviorisms … try to replicate them as close as we can."
When No Quarter returns to Spokane for a 7 p.m. show today, the band will re-create Led Zeppelin's famous 1976 concert and video "The Song Remains the Same." The show includes Zeppelin classics "Whole Lotta Love," "Dazed and Confused" and the Guitar Center staple "Stairway to Heaven." Tickets for the all-ages show are available for $10 through TicketsWest, (800) 325-SEAT or www.ticketswest.com.
The band will follow the re-creation of "The Song Remains the Same," with additional material from the Zeppelin catalogue, pulling tunes from 1969's "Led Zeppelin" through 1982's "Coda."
No Quarter also includes Bryan Christiansen as guitarist Jimmy Page, Terry Mriglot as vocalist Robert Plant and Nathan Carroll as the late drummer John Bonham.
By studying the concert video and soundtrack, the band attempts to imitate every aspect of the show, right down to facial expressions and body movemnt to be the same as the original Madison Square Garden concert. There is no attempt to interpret songs, rather "The goal is to take people back to 1976."
"There are some die-hard fans out there, and they know (if notes are different)," said McMurray, who grew up in Spokane and is a Shadle Park High School graduate. "By going out and claiming to be a tribute like this, you open up the door for all those criticisms from those hard-core fans."
As for Zeppelin's notoriously excessive lifestyle, which claimed the life of Bonham in 1980, No Quarter isn't about to push the boundaries of debauchery.
"It's probably almost the opposite (as Zeppelin)," McMurray said. "We also have our other lives that would be very non-conducive to the kind of lifestyle that a lot of those guys had back then. But I like to throw down as much as the next person."
Local journalism is essential.
Give directly to The Spokesman-Review's Northwest Passages community forums series -- which helps to offset the costs of several reporter and editor positions at the newspaper -- by using the easy options below. Gifts processed in this system are not tax deductible, but are predominately used to help meet the local financial requirements needed to receive national matching-grant funds.
Subscribe to the Spokane7 email newsletter
Get the day's top entertainment headlines delivered to your inbox every morning.
---