News > Spokane
Senske wins maintenance bid for trail
Fri., March 25, 2005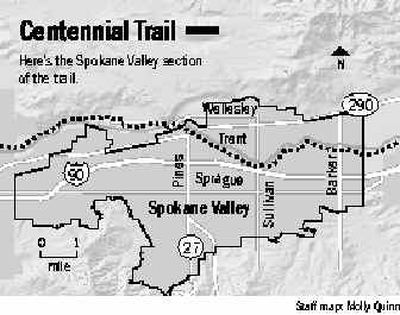 The city of Spokane Valley has tied up two loose ends in time for warmer weather.
The city inked an agreement with Senske Lawn and Tree Care Co. to clean and maintain the Centennial Trail. And the City Council gave staff the nod this week to finalize a contract with the YMCA to operate the city's three swimming pools this summer.
Spokane County had maintained the parks and operated the pools until Jan. 1, when its contract with the city expired. The city opened up the park maintenance contract to competition last year and ended up offering the job to Senske, a private company, for $585,000 in the fall. The contract didn't include operating the pools, though, and the county said it didn't want that duty without the rest of the park contract.
The contract also didn't include trail maintenance, so the 6.8-mile stretch that runs through the city has been without an official caretaker since Jan. 1. However, Parks and Recreation Director Mike Jackson said Senske had been maintaining the trail in the anticipation that a formal agreement would be reached.
Senske will be paid an extra $21,000 to pick up litter on the trail, clean the bathrooms, patch asphalt and handle other upkeep. What's not included in the new contract is sandbagging if the Spokane River were to overflow onto the trail.
"It looks like we're safe for this year," Jackson said, referring to the dry winter the region has had.
The city now plans to finalize a contract with the YMCA to operate the pools for about $267,000, or about $8,000 less than the city thought it would have had to pay the county for the work.
Before coming to an agreement with the YMCA, the city checked again with County Commissioners to make sure they weren't interested in the job. Two of the three commissioners were new to the board since the prior decision was made, but the new body still didn't want to only operate the pools.
There aren't expected to be any changes to pool hours or fees based on the new contract, Jackson said.
With the warm weather, the parks already are drawing visitors. Jackson has counted up to 40 cars in park parking lots, and the picnic shelter at Edgecliff Park was packed with people on a recent weekday, he said.
"You're seeing springtime use of the parks," Jackson said.
Local journalism is essential.
Give directly to The Spokesman-Review's Northwest Passages community forums series -- which helps to offset the costs of several reporter and editor positions at the newspaper -- by using the easy options below. Gifts processed in this system are not tax deductible, but are predominately used to help meet the local financial requirements needed to receive national matching-grant funds.
Subscribe now to get breaking news alerts in your email inbox
Get breaking news delivered to your inbox as it happens.
---