News > Nation/World
'The power of youth … overcame everything'
Fri., March 25, 2005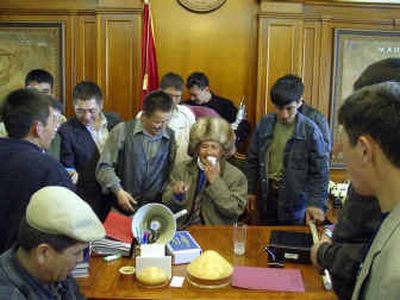 BISHKEK, Kyrgyzstan – With thousands of cheering demonstrators swarming into the presidential headquarters, Kyrgyz opposition leaders joined those in the former Soviet republics of Georgia and Ukraine in sweeping away unpopular regimes that had stubbornly clung to power after their nations' independence in 1991.
State television broadcast video of documents strewn across floors of the main government building. Windows were shattered, and a succession of youths plopped grinning into President Askar Akayev's chair, as his car was reportedly set on fire outside. Looters struck downtown department stores, but by early this morning Bishkek appeared largely calm, with many people heading to work.
"The revolution found its logical end. Literally, the people took it on themselves. The power of the youth basically overcame everything," said Edil Baisalov, a pro-democracy activist and head of the Coalition for Democracy and Civil Society.
Kyrgyzstan, a mountainous republic of 5 million, is strategically situated in the heart of turbulent Central Asia, near China, Afghanistan and some of the key oil-producing nations of the Caspian Sea region. As a result, the United States and Russia maintain military bases in Bishkek, the capital, and both appealed for calm while taking pains to stay out of the fray.
The nation has seen ethnic violence and Islamic extremist militancy in the 13 years since the breakup of the Soviet Union, and those forces could be unleashed again if Kyrgyzstan is plunged into instability, analysts said.
Amid the escalating reports of looting and other lawlessness Thursday, opposition political leaders moved to form an interim governing council of the kind set up by triumphant opposition forces a week ago in the southern cities of Osh and Jalal-Abad.
Within hours of the takeover, popular former Vice President Felix Kulov was released from prison and named by the council as security minister in the new Cabinet. He had been serving a 10-year sentence on what his supporters said were trumped-up embezzlement charges, filed after it became clear that he represented the single biggest political threat to Akayev's continued political domination.
Former opposition lawmaker Ishenbai Kadyrbekov, meanwhile, was selected by the nation's parliament as its speaker, a post in which he will also serve as interim president.
As the heady afternoon gave way to nightfall Thursday, opposition leaders grew increasingly concerned at the reports of looting in several stores and plundering of government offices and some luxurious residences of Akayev and his family.
Several shops went up in flames, and response was slow amid what appeared to be the near-paralysis of emergency and law enforcement services. Many witnesses said the police were nowhere in evidence on Bishkek's streets.
Local journalism is essential.
Give directly to The Spokesman-Review's Northwest Passages community forums series -- which helps to offset the costs of several reporter and editor positions at the newspaper -- by using the easy options below. Gifts processed in this system are not tax deductible, but are predominately used to help meet the local financial requirements needed to receive national matching-grant funds.
Subscribe now to get breaking news alerts in your email inbox
Get breaking news delivered to your inbox as it happens.
---