Sports
Thrown to the Dawgs
Fri., March 25, 2005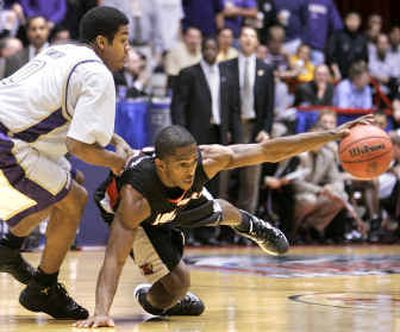 ALBUQUERQUE, N.M. — All season, what made the University of Washington men's basketball team stand out from its opponents was its unselfishness. The Huskies thrived on keeping everyone involved, moving the ball and getting scoring from everywhere.
On Thursday, though, Washington ran into a team that took it out of that offense while employing the same strategy against it. And it proved too much for the Huskies to handle.
Washington saw an early lead disappear behind tremendous shooting by Louisville and one of the great seasons in Huskies history came to an end with a 93-79 Sweet 16 defeat.
"People say we're an unselfish team," Washington junior Brandon Roy said. "They give us a lot of credit for that. Tonight, I finally saw a team that was more unselfish than us. They had no problem beating us to the middle and kicking it out for threes."
Louisville (32-4) advances to the regional final Saturday, where it will play West Virginia for the right to move on to the Final Four. Washington's season ended at 29-6.
Louisville's outstanding 3-point shooting (11 for 26) combined with a stifling zone defense that held the Huskies to 41.8 percent shooting hurt the Huskies, as did foul trouble. Leading scorers Nate Robinson and Tre Simmons spent significant time on the bench and Washington could not find an answer for the Cardinals' zone.
"We extended a little bit more and pressured the ball harder," Louisville coach Rick Pitino said. "We tried not to give up the middle. We knew they were going to attack the middle of the zone. We felt that was OK. We just didn't want to give up the three. …If we were going to give up points inside, so be it. But we were not going to give up the three."
After making 42.9 percent of its 3-pointers in the first two rounds (and 55.7 percent total), the Huskies were held to 6 for 25 (24 percent) on 3s by Louisville, whose zone shut down Georgia Tech in the second round.
"We just couldn't get anything going," guard Will Conroy said. "They were active and quick and made it hard to get open looks. And when we got them, we weren't making them."
It didn't help that Robinson and Simmons were on the bench for much of a disastrous first half. The duo combined to play just 13 minutes and were 1-for-4 shooting. In fact, Washington's starting five was 2 for 11 for 14 points in the first half. That's surprising considering the start the Huskies had.
With Roy finding success slicing through the zone, the Huskies took the lead 6½ minutes in and an 8-2 run gave them a 23-16 lead with nine minutes left. But Robinson went to the bench with his third foul and some of the energy sagged from Washington. Louisville took advantage, outscoring the Huskies 29-10 to close the half with a 47-35 lead. In the run, the Cardinals made five 3-pointers, three by star forward Francisco Garcia, and added two three-point plays as Washington switched to a zone defense.
With Simmons also going to the bench for the last 3:50 with three fouls, Washington made just two field goals in the last five minutes.
"We went zone to try to throw them out of their rhythm," UW coach Lorenzo Romar said. "Right away they hit a couple of bombs again."
Within a five-second span midway through the second half, Roy picked up his third and fourth fouls and Simmons picked up his fourth, sending the Huskies' two more affective players against the zone to the bench.
Washington made one last push. Back-to-back buckets by Hakeem Rollins cut the Cardinals' lead to 67-61 with 8:41 to go.
But Juan Palacios answered with a layup and Washington freshman Joel Smith missed a long 3-pointer. Lousville went on a 9-2 run to lead 76-63.
Local journalism is essential.
Give directly to The Spokesman-Review's Northwest Passages community forums series -- which helps to offset the costs of several reporter and editor positions at the newspaper -- by using the easy options below. Gifts processed in this system are not tax deductible, but are predominately used to help meet the local financial requirements needed to receive national matching-grant funds.
Subscribe to the sports newsletter
Get the day's top sports headlines and breaking news delivered to your inbox by subscribing here.
---