News > Spokane
Train cars to go back on track
Fri., March 25, 2005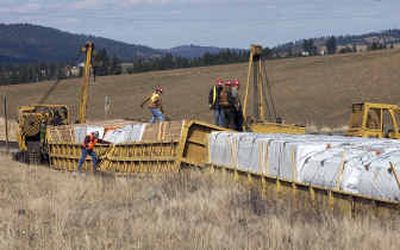 Metal shrieked and groaned Thursday as crews attempted to put the first of nine derailed train cars back on the tracks south of Mica.
The cars left the tracks the previous afternoon just south of the intersection of Highway 27 and the Palouse Highway. Union Pacific spokesman John Bromley said the cause of the derailment hadn't been determined.
The train of 30 cars was on a little-used line that goes from Spokane to Fairfield and St. Maries, Idaho. Two open cars filled with lumber lay on their sides next to the Jackson Road crossing. About 100 yards further south on a gentle curve lay seven more cars, some tossed sideways across the tracks. They were still hooked to what's left of the train, which remained sitting on the tracks.
The tracks between the two groups of cars were damaged. A long line of wooden ties were gouged and at least one rail was snapped, apparently because some derailed cars were dragged after they jumped the tracks.
Under the group of seven derailed cars, wooden ties have been reduced to splinters and the rails have been tossed about like matchsticks.
Bromley said the track should be completely repaired in a few days thanks to preassembled sections of track the railroad has stockpiled. The 39-foot sections are spiked together and ready to be put in place.
"We use those all over the railroad," Bromley said. "We don't have a firm time when we'll get the track repaired. There's a lot of mud around there, and it's slow going."
It did indeed seem to be slow going Thursday when crews from Hulcher Professional Services used heavy equipment to lift the first car back on the tracks. Hooks and cables connected two bulldozers and two heavy side-boom Caterpillars to a car on its side still holding its load of lumber.
They winched in the cables in unison, but instead of the loaded car rising and tipping back on the tracks, the heavy tracked equipment was pulled forward as easily as a child's toy. One bulldozer operator dug his blade into the dirt to act as an anchor, slowing his slide.
Finally the car rose, squealing in protest. It landed upright, but not on the tracks.
Local journalism is essential.
Give directly to The Spokesman-Review's Northwest Passages community forums series -- which helps to offset the costs of several reporter and editor positions at the newspaper -- by using the easy options below. Gifts processed in this system are not tax deductible, but are predominately used to help meet the local financial requirements needed to receive national matching-grant funds.
Subscribe now to get breaking news alerts in your email inbox
Get breaking news delivered to your inbox as it happens.
---