News > Spokane
Thread of faith
Sun., March 27, 2005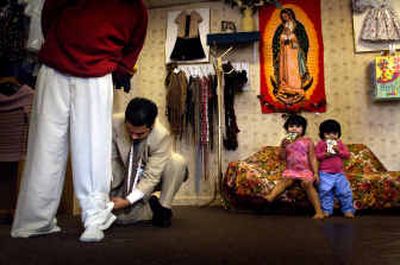 The soothing whir of a sewing machine has been the soundtrack of their lives.
It was a sound Alex and Rosa Figueroa heard as children growing up in Mexico. Over the years, it signified work, prosperity, hope. Even now, the hum of a Singer lulls their twin babies to sleep.
Tailoring is second nature for this Spokane couple, owners of Don Juan's Tailor Shop in northeast Spokane. Earlier this month, they celebrated the first anniversary of their business – a dream come true for this young, immigrant family.
With Easter and the advent of spring, the shop has been full of activity. Customers want the Figueroas to hem their pants, line their dresses, embroider fancy outfits. Men order new suits. Families come in looking for christening gowns just in time for a spring baptism.
"We dress up for Mass (on Easter Sunday) to show God we care," said Alex Figueroa. "It's a day of celebration. It's about God and happiness."
Pascua, or Easter, is a significant time of year for the Figueroas and many Hispanic Christians. It's a day that memorializes Christ's resurrection and marks the end of Lenten fasts and sacrifices.
Yet while religious traditions are naturally infused into the Latino culture, families celebrate Easter in their own ways. And while most Hispanic Christians in the United States have roots in Roman Catholicism, many also belong to Protestant churches.
The number of Hispanics in the Inland Northwest is still relatively small, but the growth rate in this area mirrors the Latino explosion taking place throughout the country. Between 1990 and 2000, the Hispanic population in Spokane County grew 65 percent, to 11,561 people, according to the 2000 U.S. Census Bureau. In 1990, Hispanics in Kootenai County numbered only 1,052. But in 2000, the population more than doubled to 2,528, according to the latest census.
Like the Figueroas, many Latinos in Spokane belong to St. Joseph's Catholic Church in the West Central neighborhood. Every Sunday, the congregation offers a Mass in Spanish, celebrated by the Rev. Mike Cook.
In the Figueroa household, Pascua is a solemn day that centers around the ritual of Mass and prayers. While growing up in Mexico, they never had Easter bunnies, pastel-colored eggs or chocolate, said Rosa Figueroa.
"It's more of a religious day," she said.
The holiday is also a boon for their business, as people spruce themselves up for church and Easter festivities.
Springtime, in general, is a good season for tailors. It's that time of year when folks notice snags in their clothing or the unraveling of thread as they put away winter coats and take out their spring and summer wardrobe.
In the Figueroa's modest shop, located in an old, brick building on East Ermina Avenue, the buzz of dueling sewing machines remains constant these days as Alex and Rosa work side by side amid spools of thread, boxes of zippers and colorful rolls of sumptuous fabric. On especially busy days, Alex starts as early as 6 a.m. while Rosa remains bent over the sewing machine until 10 p.m. or later.
Their two oldest children – 4-year-old Rosita and 3-year-old Elizabeth – help out by handing a pencil or measuring tape to Mom and Dad while charming the customers who walk through the door with their smiles. The girls – often giggling and chatting in both English and Spanish – flit back and forth from the shop to the apartment in the back, where they all live along with Juan and Israel, the 5-month-old twin boys.
In many ways, Don Juan's Tailor Shop is a celebration of their vibrant heritage, a tribute to both Mexico and their Catholic traditions. On one of the walls hangs a picture of Our Lady of Guadalupe, the most revered religious relic in Latin America and the most prominent symbol of Mexican unity. Close by is a small, framed portrait of Jesus. Other statues of the Virgin Mary also adorn the room.
Besides their own creations – silk dresses, snazzy polyester suits, prom-like gowns and evening wear – the shop also sells items from Mexico including shoes, purses and hair accessories. The couple also run a dry-cleaning business on the side.
Their talents, however, lie in their nimble fingers.
"This is my passion," said Alex. "I can create a lot of things to make people look elegant and professional. It is creative, and I love what I do."
It's in his blood, after all; Alex Figueroa comes from a line of tailors. An only child, Alex was born in Guatemala City, where his Mexican father met his Guatemalan mother after a soccer game. The family moved back to his dad's hometown of Tapachula in the southern Mexican state of Chiapas, where his father's family owned a tailor shop.
When he was 7, Alex became an apprentice for his dad, who was known throughout the district for his quality workmanship. The governor in Chiapas, as well as other politicians and lawyers in the area, ordered their suits from Alex's father. The boy started out by making patterns for pants, but before long, Alex was able to tailor his own suit made of black polyester.
In 1990, when he was 11, Alex's family immigrated to Orange County, Calif. Business was fine in Chiapas, Alex recalled, but his mother wanted a better life in America. Without speaking a word of English, he started attending the local public schools while spending his weekends and free time helping his dad continue the family business.
After graduating from high school, Alex attended Santa Ana Community College with hopes of becoming a doctor. But he couldn't abandon his zeal for fabric and thread, the excitement he felt each time he designed and sewed a piece of clothing.
At the same time, he met Rosa, a woman from Mexicali who just happened to share his passion for tailoring. Both her father and mother, as well as an older sister, made a living sewing on the side. As a child, Rosa would help her family earn extra money by going door to door and selling the dresses they made.
Rosa and Alex were tailor-made for each other, so to speak. During their courtship, both were convinced it was a sign they were meant to marry.
In 2003, the Figueroas decided to move to Spokane. California was just too expensive, especially for a couple who dreamed of buying a house, starting a business and raising a big family. A friend had suggested that Spokane was a good place to live, and they took the plunge. It was a scary move, Rosa recalled. They didn't have any friends or family here. In the beginning, they couldn't even find Spokane on a map.
When they opened the shop a year ago, they decided to name it "Don Juan" in honor of Rosa's late father. When their boys were born at Sacred Heart Medical Center last October, the couple named them after their dads, the two influential tailors in their lives.
While they're relieved to see their startup get off the ground, Alex and Rosa haven't stopped dreaming. They pray that clients will continue to come, that business will grow, that they will expand their little shop someday. Rosa hopes to sell more items from Mexico, particularly handmade leather shoes from Zacatecas.
"People here have been very kind," said Rosa. "Spokane has become our home."
Local journalism is essential.
Give directly to The Spokesman-Review's Northwest Passages community forums series -- which helps to offset the costs of several reporter and editor positions at the newspaper -- by using the easy options below. Gifts processed in this system are not tax deductible, but are predominately used to help meet the local financial requirements needed to receive national matching-grant funds.
Subscribe now to get breaking news alerts in your email inbox
Get breaking news delivered to your inbox as it happens.
---