News > Features
For Cameron, what a long, strange trip it's going to be
Mon., March 28, 2005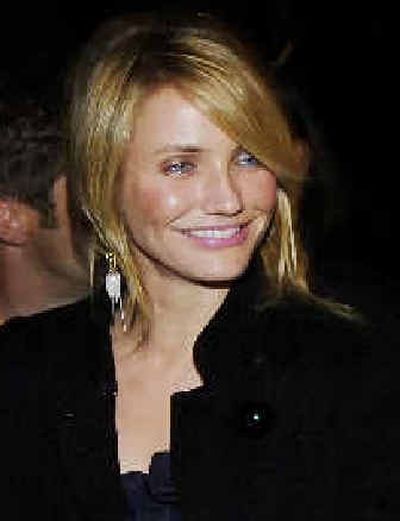 Cameron Diaz has become a professional vacationer.
Despite reaching rarified status two years ago as one of Hollywood's $20 million stars, the "Charlie's Angels" beauty hasn't spent much time making movies.
Instead, she has been spending her days creating the eco-friendly MTV travel show "Trippin' " (premiering tonight at 10:30), bumming around with singer boyfriend Justin Timberlake and becoming a reluctant gossip starlet.
In the 10-episode series, Diaz explores fragile ecological locations and camps out in the wild with celebrity pals such as Drew Barrymore, Jessica Alba, Rebecca Romijn, DMX – and Timberlake.
Diaz, 32, squirms when asked about her two-year romance with the 24-year-old Timberlake, saying she prefers to talk about her show.
Asked about his appearance on two installments of "Trippin' " during an excursion to Tanzania, she is still reluctant to answer.
Fans shouldn't expect to see much of their romance on the show, she insists.
"When we did this trip together, we did it as business. We're working together," she says.
"Clearly, as producer and creator of the show, I'll put in what I feel comfortable with. But it's not about Justin and my relationship.
As she puts it: "He's just like every other guest."
Diaz says viewers shouldn't expect "Trippin' " to be a glimpse into her everyday life, a la "The Osbournes" or "Newlyweds: Nick and Jessica."
"This is work for me," she says. "These shows are not like vacation. I am working."
Still, says Rod Aissa, senior vice president of series programming at MTV, "This show will give people a great sense of who Cameron is as a person outside of the movies, and outside of the (red) carpets and outside of what you may read in some of the magazines."
It's also one of the few places in the foreseeable future where fans can see Diaz, who jokes about her apparent state of semi-retirement.
In October she'll be on screen for the first time in two years in "In Her Shoes," playing a party girl feuding with her straight-arrow sister (Toni Collette).
Diaz also is lined up to provide the voice of computer-animated Princess Fiona in "Shrek 3" but says that won't take too much of her time.
"My work is like three days on 'Shrek 3,' " she giggles. "It's pretty easy. It's pretty much like hitting the lottery."
As for her future in movies, Diaz – who became a star with 1998's raunchy "There's Something About Mary" – shrugs and laughs.
"I have no films lined up. I have nothing," she says.
"I don't want to do anything. I'm very reluctant at the moment to do anything."
Diaz says she wants to wait and see whether "Trippin' " is picked up for another season, and then take a long vacation without the camera crew.
"I like taking time off," she says. "I'm good at it."
The birthday bunch
Actress Conchata Ferrell is 62. Actor Ken Howard is 61. Actress Dianne Wiest is 57. Country singer Reba McEntire is 50. Rapper Salt (Salt-N-Pepa) is 36. Actor Vince Vaughn is 35. Actor Ken L. ("The Parkers") is 32. Actress Julia Stiles is 24.
Local journalism is essential.
Give directly to The Spokesman-Review's Northwest Passages community forums series -- which helps to offset the costs of several reporter and editor positions at the newspaper -- by using the easy options below. Gifts processed in this system are not tax deductible, but are predominately used to help meet the local financial requirements needed to receive national matching-grant funds.
Subscribe now to get breaking news alerts in your email inbox
Get breaking news delivered to your inbox as it happens.
---