News > Nation/World
Georgeanna Seegar Jones, in-vitro expert, dies at age 92
Mon., March 28, 2005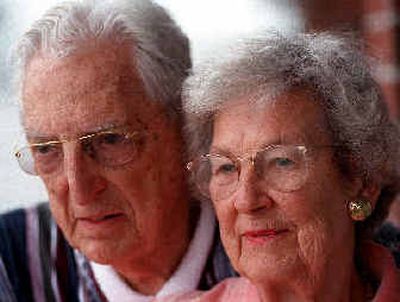 RICHMOND, Va. – Dr. Georgeanna Seegar Jones, who helped develop the program that led to America's first "test-tube baby," has died. She was 92.
Jones died Saturday of cardiac arrest at Sentara Norfolk General Hospital. She had been diagnosed with Alzheimer's disease in the 1990s.
Jones and her husband, Dr. Howard Jones, established the in-vitro fertilization program at Eastern Virginia Medical School in 1978 in Norfolk. In 1981, the couple announced the birth of Elizabeth Jordan Carr, the country's first baby conceived outside the mother's body.
"They definitely hold a special place in my heart. I always considered them to be my second set of grandparents," Carr told The (Baltimore) Sun.
Carr said Jones was a quiet woman who "didn't take a lot of credit for the tremendous amount of work that she did."
Carr's parents had tried for nine years to conceive before turning to the Joneses for in-vitro fertilization, a procedure in which a woman's eggs are joined with a man's sperm in a glass dish and later implanted in the uterus.
The Joneses moved to Norfolk, Va. in 1978 after retiring from Johns Hopkins Hospital, where they had taught and conducted gynecological research for more than four decades.
The world's first "test-tube" baby was born in England at that time. One of Georgeanna Seegar Jones' former patients put up the money for the Joneses to start a program in Virginia.
"Their work gave hope to thousands who came to their clinic from all over the world," said Dr. Theodore Baramki of the Johns Hopkins University School of Medicine.
Even before her work with in-vitro fertilization, Jones was regarded as one of the foremost female scientists in the 20th century and was one of the nation's first reproductive endocrinologists. Work she performed in the 1930s laid the foundation for the development of home pregnancy tests.
She earned her medical degree in 1936 from Johns Hopkins' medical school. She was a fellow at the National Institutes of Health and became director of Hopkins' reproductive physiology laboratory and led the hospital's gynecological endocrine clinic.
Her first medical breakthrough was to identify that the "pregnancy hormone" was produced by the placenta.
Local journalism is essential.
Give directly to The Spokesman-Review's Northwest Passages community forums series -- which helps to offset the costs of several reporter and editor positions at the newspaper -- by using the easy options below. Gifts processed in this system are not tax deductible, but are predominately used to help meet the local financial requirements needed to receive national matching-grant funds.
Subscribe now to get breaking news alerts in your email inbox
Get breaking news delivered to your inbox as it happens.
---