News > Features
Her love for the purse can be a curse
Mon., March 28, 2005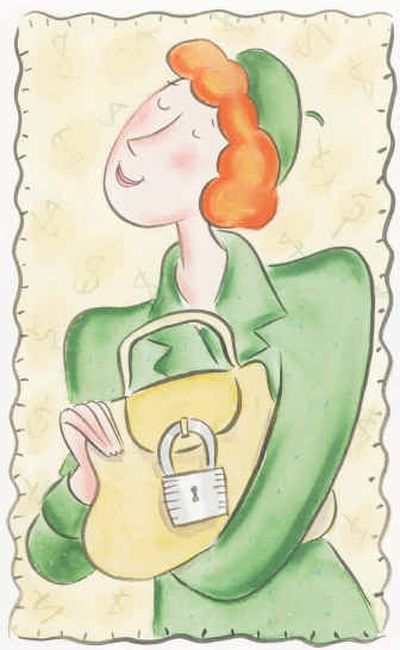 I carry my weight around my hips and my heart on my sleeve. Everything else goes in my purse.
I've always had a thing for purses. As a little girl I crouched in the closet searching for clues to my enigmatic mother in the scraps of paper, bits of tobacco and green pennies left in the bottom of her handbags.
As a young woman, I spent hours (and too much of my paycheck) collecting the things.
But after the children came along I tried to be practical. I didn't bother to change purses. I resisted the pretty new bags that came out each spring.
Instead, I carried big carryalls that were guaranteed to hold everything. I felt like a serviceman in the airport, dragging a bulging bag full of my belongings everywhere I went.
But I still couldn't resist looking.
Once, when my son was in kindergarten, we were strolling through a department store and I moved toward the accessories. He recoiled in horror.
"No, no, NO! No purses!" He cried. "I'm too hungry."
He knew I would lose track of time, and after picking up everything in the department, still come away empty-handed. And he wouldn't get a Happy Meal.
Later, I tried the clever bags that can be worn backpack-style, but the minute I slipped the straps over my shoulders, my whole body turned into a weapon of mass destruction. I thrashed about like Quasimodo, bumping into people, knocking things over and sending store displays crashing to the floor.
Now that I don't have small children, I don't have to carry a diaper bag. I don't have to bring along a purse big enough to stash enough drink boxes and snacks to keep everybody happy while we drive around town. I can carry a handbag again just because it's pretty.
Now, the problem is busy life. Too often, I dress in a hurry and dash out the door, already late for some appointment. On my way out, I reach into my closet, grab the bag du Jour and jump into the car. At a red light I take what I need out of yesterday's perfect purse, toss it into the back seat, and put today's perfect purse on the seat beside me. By the end of the week, my car looks like the hideout of a professional purse-snatcher. It is a graveyard of looted bags, their rejected contents spilling out and strewn across the seat.
I'm embarrassed by my weakness. In a world that has more heartache than we can bear to think about, how can I be so vain? How can I spend my hard-earned money on something that hangs on my arm? I don't know. But I am and I do. By eschewing Botox, a face lift and control-top pantyhose, my purse is one of the few vanities I have left. Well, except for my shoes, but we won't get into that here.
Tell you what, when I die don't let them bury me. I have a better idea.
Instead, I'd like to be cremated, placed on a pyre built entirely of the purses I've bought in my lifetime. That way, the money can go up in smoke twice.
Or, better yet, I'll save a few. Then, when my daughters try to piece together the mystery that was their mother, they can find hints in the things left behind.
I want them to know I was more than just a pretty purse.
Local journalism is essential.
Give directly to The Spokesman-Review's Northwest Passages community forums series -- which helps to offset the costs of several reporter and editor positions at the newspaper -- by using the easy options below. Gifts processed in this system are not tax deductible, but are predominately used to help meet the local financial requirements needed to receive national matching-grant funds.
Subscribe now to get breaking news alerts in your email inbox
Get breaking news delivered to your inbox as it happens.
---