News > Idaho
Resort brings small town familiar growing pains
Mon., March 28, 2005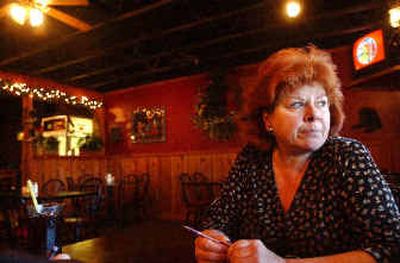 DONNELLY, Idaho – Renee Welch remembers Donnelly when the local idea of culture was drinking beer, playing pool and listening to a cowboy band.
That's the way it was for most of the 12 years she's lived there. Donnelly was like any of a hundred little Idaho towns – peeling paint, no sidewalks, dogs dozing in the streets. Everybody knew everybody, fishing and hunting were religions, and about the worst thing that normally happened was a hangover. Now, that's fading history.
"We have an avalanche coming down the mountain," longtime area resident Frank Eld said over brunch at a gleaming new espresso shop. "An avalanche named Tamarack."
Tamarack, the $1.5 billion ski, golf and real estate development being built seven miles away, ended Donnelly's laid-back lifestyle like a bugle blowing reveille. Property values and rent have skyrocketed, longtime residents are leaving, and the beer and jerky crowd is giving way to the wine and quiche set.
The real estate market "literally changed overnight," Donnelly real estate broker Carol Amburgy said.
"Houses used to be on the market here from one to four years," she said. "Now the good ones sell before they even hit the listings. With Tamarack's first sale, it became a feeding frenzy."
In addition to an espresso shop, the new Donnelly has an art gallery and a store that sells sushi – businesses that once would have been considered unthinkable here. Other recent additions include a motel, laundromat, gift shop, real estate office and mortgage company. A 17,000-square-foot grocery store and general store are planned as part of a retail complex. A bank is rumored.
"I've seen a big difference in just the last six months," Welch said. "When I see people in the restaurant now and ask them what they do, they say, 'Oh, we just moved here.' "
A lot Welch was offered six years ago for $22,000 recently sold for $80,000. Deedee Gossi, Valley County's chief deputy assessor, says property values overall have doubled to tripled in the last year.
Signs advertising everything from new subdivisions to heavy equipment for hire seem to be everywhere. Tamarack has brought good-paying jobs and steady employment to a town hit hard by the closure of a Boise Cascade Corp., sawmill in nearby Cascade in 2001.
Some predict that Tamarack will be the next Sun Valley, transforming once-sleepy Donnelly (2000 census population, 138) into the next Ketchum or Hailey. Feelings about the boom are mixed.
"We're rapidly reaching the point where you're not going to be able to find a bare, nondescript piece of ground for under $100,000," Amburgy said. "It's good for business. But I live here, too, and local people are being forced out."
Longtime businesses are struggling to compete for available workers. Rising property values and the influx of workers to Tamarack have brought higher rents and a shortage of affordable housing.
Some longtime residents are leaving because they can't afford rising rents in a town where resort prices appear to be the wave of the future and, increasingly, the present. Others have sold out to cash in on suddenly valuable property, and still others have left or are thinking of leaving because they don't like the new Donnelly as well as the old. You can actually see the town changing.
"It's a sad day for Donnelly," Eld said as he watched workers demolish the service station that stood for decades at the center of the town. "That old Texaco station was where we practically grew up as kids. It had an oil-changing bay and mechanics. There was an old-fashioned pop machine where the pop slid through slats. They sold candy there. It was our hangout. Now it will just be vacant property for sale. It's what's happening all over Donnelly."
Eld successfully ran for the Valley County commission last year, in part because he was concerned about the Tamarack-triggered explosion in growth and property values. It became personal, he said, when the man who cut his firewood couldn't afford his increased rent, was evicted and left the area.
"It took out someone who wanted to live here and performed what for me and a lot of others was a critical service," he said. "We're trying to form a housing authority because people are being priced out.
"My background is in manufactured housing. I put in houses in Hailey and Bellevue when they were where we are now. The scary part is that it took 10 years to get to the point where people couldn't afford to live there anymore. Here, we're there already."
Up the street at Vigilantes Restaurant and Lounge, Welch worries about her employees being able to make it.
"Before Tamarack, it was $500 a month for a two-bedroom apartment," she said. "Now it's $1,000. Even a crummy old trailer has gone from $400 to $700. I used to have a lot of part-time employees. Now they're all working full-time just to make ends meet."
Hershel Coulter of the Calvary Christian Food Bank says the number of people getting help there has increased 25 percent in the last year.
"Most of them are women," he said. "They can't make it with these housing prices, especially if they have to hire baby sitters while they work. It's a Catch-22."
Amburgy worries about Donnelly becoming another resort town where working-class people can't afford to live.
"I don't want to see people living in Horseshoe Bend to work in Donnelly."
At Vigilantes, Welch has increased the hourly wage to $11 to help her employees keep up with the higher costs of living – and to compete with Tamarack for employees. Tamarack currently has 321 resort employees and is expecting as many as 900 construction workers this summer.
"I used to have to lay people off every year," Welch said. "Now I can't find anybody to work. They have restaurants at Tamarack, and their employees get ski packages and benefits. It's tough to compete with that. I have to pay more to get people down here to work for me. I have a good crew, but it's thin. If I lose any employees, I don't know what I'll do. I'm scared."
Vigilantes is for sale. Welch, who hopes to retire, bought the business in 1993 for $185,000, purchased some equipment and enlarged the kitchen. Her current asking price: $795,000.
Local journalism is essential.
Give directly to The Spokesman-Review's Northwest Passages community forums series -- which helps to offset the costs of several reporter and editor positions at the newspaper -- by using the easy options below. Gifts processed in this system are not tax deductible, but are predominately used to help meet the local financial requirements needed to receive national matching-grant funds.
Subscribe now to get breaking news alerts in your email inbox
Get breaking news delivered to your inbox as it happens.
---