Sports
Spartans earn their spot in Final Four
Mon., March 28, 2005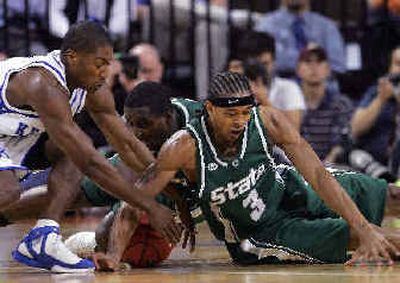 AUSTIN, Texas – Tom Izzo wasn't going to wait. He figured Kentucky's rim-dancing 3-pointer would be ruled a basket, so he grabbed his clipboard and started getting Michigan State ready for overtime.
"Now let's beat them a second time," he barked into the huddle.
Deflated at first, the Spartans recovered in time to heed the coach's call.
With Kelvin Torbert smiling at his teammates and screaming "Let's go!," the Spartans denied the Wildcats from even getting off a potential winning shot at the end of overtime, then coolly took care of things in a second OT, pulling out a 94-88 victory Sunday to send the Spartans into the Final Four.
"We survived," Izzo said.
It was a breathtaking finish to perhaps the most astonishing regional finals weekend the NCAA tournament has ever seen. After Louisville and Illinois needed overtime to secure their spots in St. Louis on Saturday and North Carolina advanced in a squeaker over Wisconsin earlier Sunday, this game had several last acts.
"It will go down in history as a great college basketball game," Kentucky coach Tubby Smith said. "It hurts right now, but some of our guys will appreciate it later on."
The second-seeded Wildcats (28-6) dug out of an eight-point hole with 5:25 left, mainly with 3-pointers, then missed a pair of 3s that could've tied it at the end of regulation – only to have the ball wind up in the hands of outside ace Patrick Sparks. He let it go with a second to spare, then saw the ball bounce four times on the rim before dropping.
Officials needed more than five minutes to make sure his right tiptoe was behind the arc. Referee James Burr finally decided it was after asking CBS to zoom in on Sparks' feet.
Rejuvenated, Kentucky scored the next four points, but couldn't maintain it.
After fifth-seeded Michigan State (26-6) tied it with 1:03 left, the Wildcats had the ball the rest of the way, yet managed just one shot – a bad one – and none after Torbert's rallying cry with 20 seconds left.
"As soon as I got it, I should've shot it," said Kelenna Azubuike, who had both the ugly miss and was stuck holding the ball when time ran out.
Torbert opened the second overtime with a free throw, and Michigan State never trailed again. The Spartans made 11 straight foul shots in the second overtime, then let out all sorts of pent-up emotions.
The relief went beyond the obvious, that they're joining Big Ten rival Illinois with a chance to win it all. For the upperclassmen, especially the seniors, this victory emphatically shed their label as soft, weak underachievers, and guaranteed them of continuing the Final Four tradition begun by predecessors from 1999-2001.
And it could get even better. After knocking out Duke and Kentucky this weekend, Michigan State next plays North Carolina, giving the Spartans the chance to steamroll three of the most prestigious programs in the land.
"We had plenty of potholes and valleys – even black holes – during this journey," MSU senior Chris Hill said. "We have been through it all, but here, at the end of the day, we are still standing."
The young Wildcats were supposedly a year away from greatness. While they'll be expected to go even farther next year, that's too late for their best player, Chuck Hayes, the lone senior lost from the top of their deep rotation.
Hayes, who played for Izzo on the U.S. Pan Am team two years ago, hugged MSU seniors Torbert, Hill and Alan Anderson, then shook hands with Izzo before taking a seat on his bench with a few seconds left. He began crying and didn't stop until the start of a news conference.
"You figure if you give everything you have, you get what you want. But sometimes, you don't," said Hayes, who ends his career tied for the most consecutive starts in school history yet never got past the regional finals.
Since winning the championship in 1998, Smith's first year in Lexington, Kentucky is 0-for-3 in the round of eight. The Spartans also eliminated them in '99. This loss also deprived the Bluegrass state of having two teams in the Final Four; only Louisville will be there now.
Instead, there's the chance for a title-game matchup between a different set of regional rivals: Michigan State and Illinois, the only team that finished ahead of the Spartans in the Big Ten this season.
Michigan State was led by sophomore Shannon Brown, whose 24 points on 8-of-10 shooting with five 3-pointers sends him to a Final Four reunion with high school teammate Dee Brown of the Fighting Illini. They'll be the duo with dangling corn rows and headbands; Shannon will be the one without the orange mouthpiece.
Maurice Ager added 21 points for the Spartans, while Paul Davis had 15 and 11 rebounds.
Randolph Morris led Kentucky with 20 points and Hayes had 16 points and five rebounds. Sparks had 15, all on 3-pointers; the Wildcats had been 19-0 when he made at least two 3s.
Kentucky got a scare in the final minute of regulation when Ramel Bradley collided with Anderson and went down hard, needing help to get to the locker room. He returned, with a huge bandage on his chin, just before the start of overtime, drawing a big cheer from the crowd.
Michigan St. 94, Kentucky 88 (2OT)
Michigan State (26-6)–Anderson 3-7 6-6 13, Davis 6-13 3-5 15, Brown 8-10 3-4 24, Neitzel 1-4 0-0 3, Ager 6-13 7-8 21, Hill 3-7 0-0 7, Trannon 2-2 0-1 4, Hamo 0-0 0-0 0, Torbert 1-8 5-6 7, Bograkos 0-0 0-0 0, Naymick 0-0 0-0 0, Harvey 0-0 0-0 0, Rowley 0-0 0-0 0. Totals 30-64 24-30 94.
Kentucky (28-6)–Azubuike 2-6 3-4 9, Hayes 8-11 0-0 16, Morris 6-12 8-10 20, Rondo 3-8 1-3 7, Sparks 5-12 0-1 15, Stockton 0-0 0-0 0, Moss 2-4 0-0 6, Bradley 1-5 4-4 6, Obrzut 0-0 0-0 0, LeMaster 0-0 0-0 0, Perry 0-1 0-0 0, Alleyne 0-0 0-0 0, Thomas 2-2 0-0 4, Crawford 2-8 1-1 5. Totals 31-69 17-23 88.
Halftime—Kentucky 37, Michigan State 33. Regulation—Michigan State 75, Kentucky 75. First Overtime—Michigan State 81, Kentucky 81. 3-Point Goals—Michigan State 10-19 (Brown 5-6, Ager 2-4, Anderson 1-1, Neitzel 1-1, Hill 1-4, Torbert 0-3), Kentucky 9-19 (Sparks 5-9, Azubuike 2-3, Moss 2-3, Bradley 0-2, Crawford 0-2). Fouled Out—Azubuike. Rebounds—Michigan State 40 (Davis 11), Kentucky 37 (Moss 6). Assists—Michigan State 15 (Hill 4), Kentucky 14 (Azubuike, Bradley, Hayes, Rondo 3). Total Fouls—Michigan State 20, Kentucky 25. A—16,239.
Local journalism is essential.
Give directly to The Spokesman-Review's Northwest Passages community forums series -- which helps to offset the costs of several reporter and editor positions at the newspaper -- by using the easy options below. Gifts processed in this system are not tax deductible, but are predominately used to help meet the local financial requirements needed to receive national matching-grant funds.
Subscribe to the sports newsletter
Get the day's top sports headlines and breaking news delivered to your inbox by subscribing here.
---