News > Idaho
Unclaimed medal may come home
Mon., March 28, 2005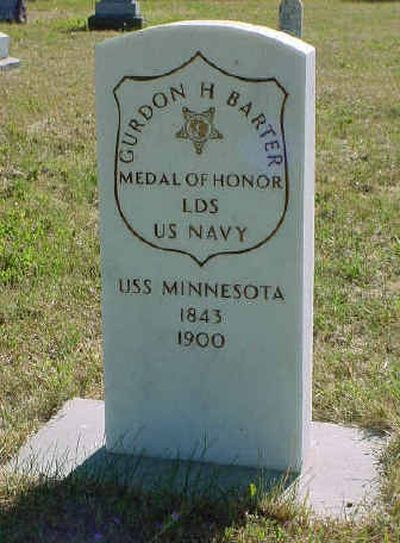 Viola is such a small Idaho town that you'd expect everyone to know everyone.
Still, Gurdon H. Barter is a town mystery.
No one knows when he arrived, what he did in Viola beyond reported illegal co-habitation with a woman, or how he died 105 years ago. What they do know is that he was a hero on a national scale. His headstone in the Viola Cemetery bears an inscription of the Medal of Honor he was awarded for his valor during the Civil War.
Barter's story of heroism never made it into the tales that Viola families passed down through the generations, and that's because Barter never received his medal. For 140 years, the U.S. Navy has stored the medal, which looks like a sheriff's star, in a drawer in Washington, D.C.
Now, Idaho is laying claim to it.
"We do know the medal is there and it's the real thing," says Jim Adams, state assistant to U.S Rep. Butch Otter. "We can't see any reason they wouldn't release it."
Adams recently asked the U.S. Department of the Navy to turn over Barter's Medal of Honor to Idaho to the state military history museum in Boise.
The Navy would consider lending Idaho the medal for an indefinite period if the Idaho Military History Museum meets all the Navy's requirements, says Jack Green, public affairs officer for the Naval Historical Center in Washington, D.C.
However, Green can't find anyone who's received Adams' request.
"When we get it, we'll review the request and if it meets the requirements of the Navy for a museum loan, the chances are pretty good it'll get the medal," Green says.
The Idaho Military History Museum is an appropriate home for Barter's Medal of Honor. Museum trustee Gayle Alvarez discovered Barter five years ago in her research to find Medal of Honor recipients connected to Idaho. Barter was among medal recipients buried in the state.
"I was flabbergasted when I found out," Alvarez says about her state's strong connection to the Civil War. "The more I looked into it, the more it looked like he was not aware he was awarded the medal."
If that's the case, it was a sign of the times. Green says the Medal of Honor was handed out like gumdrops the years after its creation in 1864. It was the only medal bestowed by the U.S. government until 1905.
"In one case, the medal was given to men to re-enlist. No one did. Those medals were rescinded in 1905," Green says.
Many medals went dim after the government assessed its award process in 1905. But Barter's wasn't among them. The man who was born in Williamsburg, N.Y., in 1843 showed his true grit during the battle for Fort Fisher, N.C., on Jan. 15, 1865.
Barter was a landsman, the equivalent of today's recruit, aboard the USS Minnesota. Fort Fisher had frustrated the Union. It was made of earth and sand and absorbed the impact of heavy explosives. It protected the ocean and the Cape Fear River, which leads to Wilmington. Wilmington was the Confederacy's only major port still operating and where steamers dropped desperately needed provisions for Southern states and Confederate forces.
Union forces attacked the fort from land and sea in January 1865. According to USS Minnesota Lt. Cmdr. James Parker in his letter of recommendation for Barter's Medal of Honor, Barter was among forces that assaulted the fort from the beach until enemy fire stopped the advance.
"Many officers and men had been killed, and large numbers wounded," Parker wrote.
He ordered his men to advance but only about 60 followed him. Barter was among those men.
The Union captured Fort Fisher on Jan. 15, which led to Wilmington's downfall and the demise a few months later of the Confederacy. Naval records show Parker sent his recommendation for nine Medals of Honor the following day.
Barter's medal was issued June 22, 1865, two months after the war's end. Barter apparently was long gone. He had been discharged five months earlier. There's no record of him returning to New York or heading West with many other Civil War veterans to join in the Indian wars. Sometime, though, he landed in Viola, just eight miles north of Moscow where another Civil War Medal of Honor recipient, John Hays, lived.
Barter's medal was among 71 Medals of Honor and citations the Navy's Bureau of Personnel turned over to the Naval Historical Museum in 1957, Green says. The awards were issued between 1861 and 1904. No records explained how his medal arrived at the bureau.
"I find it hard to believe it wasn't awarded to him," Green says. "Especially since he lived until 1900."
In 1865, the Medal of Honor didn't carry the gravity it does now. Soldiers received it from their commanding officers or in the mail. Green and Alvarez speculate that possibly the postal service couldn't find Barter or the medal made it to Barter but he had no family to claim it after he died. In such a case, Medals of Honor return to the recipient's service branch for safekeeping.
The U.S. Veterans Administration knew of Barter's Medal of Honor because the organization inscribed the medal onto his headstone.
Alvarez became determined to unite Barter with his medal, at least in spirit. She's planning a Medal of Honor recipients' exhibit at the military museum in Boise and wants visitors to see Barter's medal as well as the medals of three other Civil War veterans in Idaho: Hays in the Moscow Cemetery, John Conaway in Evergreen Cemetery in Post Falls, and James Kephart in the Elmwood Cemetery in Gooding.
Otter's office was more than happy to help. Adams is retired from the U.S. Army and an active leader in several veterans organizations. He volunteered to approach the Navy.
"My feelings are strong. If I have to I'll go to the Chiefs of Staff of the Navy and see if they can't put some pressure on," Adams says. "The medal isn't doing anyone any good where it is."
Green doesn't believe Idaho will have to wage war to retrieve Barter's medal.
"Medals of Honor have a very high value as historic property," he says. "The Navy has certain requirements how to store it, conserve it, keep it away from ultraviolet light. Once those requirements are met, they're usually loaned out, and this one probably will be."
Then Viola residents can finally learn about the town hero.
Local journalism is essential.
Give directly to The Spokesman-Review's Northwest Passages community forums series -- which helps to offset the costs of several reporter and editor positions at the newspaper -- by using the easy options below. Gifts processed in this system are not tax deductible, but are predominately used to help meet the local financial requirements needed to receive national matching-grant funds.
Subscribe now to get breaking news alerts in your email inbox
Get breaking news delivered to your inbox as it happens.
---