Sports
Best may be yet to come
Thu., March 31, 2005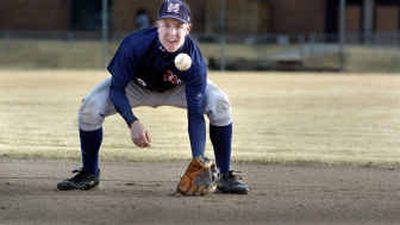 Mt. Spokane's Cameron Joslyn, like his brother before him, is a late bloomer.
You wouldn't know it by the stats he put up last year when the then 5-foot-11, 150-pound pitcher went 5-2 and had the Greater Spokane League's best earned run average at 0.57.
For that matter, you wouldn't know it this year after he belted two home runs during a non-league game against North Central.
But, also like his brother Kevin, who is currently completing his collegiate career as a relief pitcher with Oregon State University, the best could lie beyond high school.
Kevin grew at least an inch after high school and is 20 pounds heavier. His growth came at Columbia Basin College, where the NWAACC Eastern Division MVP compiled an 8-0 record and 0.97 ERA and struck out more than one batter per inning as a sophomore.
Although there are decided differences in their physique and demeanor, there are enough similarities that having an older brother pitching in college could be an advantage to Cameron's future.
"We'll see what happens," said Cameron, a shortstop when he's not on the mound for the Wildcats. "Right now, I'd like to play both positions. I kind of want to make my own path and not follow in his footsteps."
Not donning a similar set of spikes seems impossible in a family consumed by baseball.
"I've been playing ever since I was a kid," Cameron said. "I just grew up around it."
Doug Joslyn, a sixth-grade teacher at Logan Elementary, played in high school and coached nearly year-round for a dozen seasons as an assistant to former Rogers High coach Jim Paton. They traveled the country and took international trips on cultural exchanges.
"I have to give Jim quite a bit of the credit (for getting him immersed in baseball)," Doug said. "But I got gung ho and had a good experience with it."
If his wife wanted to see him, he joked, she had to come along. The boys were there by extension, playing in the dirt or shagging balls.
"I tried to encourage them to do other sports, but it was pretty much their passion," said Doug.
Cameron played in two youth leagues initially and for two years was a member of the Kennewick Dirt Dawgs, a team that won the United States Amateur Baseball Association 15U national championship.
He's played American Legion Senior League baseball since his sophomore year and last November gained college exposure when he went 2-0 pitching for a Baseball Northwest traveling team that competed in Florida.
Cameron last spring was an All-GSL pitcher. His older brother was an all-league outfielder, who also pitched, at Mt. Spokane. Both have worked hard to reach their goals.
That's where the similarities end.
"Kevin's a left-hander, Cameron a righty," Doug said. "They're about like that as far as their personalities."
Kevin was a little bigger and fiery. He has always worn his emotions on his sleeve. By contrast, Cameron is more composed. Shuerman said that you would never tell if he were winning or losing by his comportment.
"I keep myself under control and it helps me," Cameron said.
His dad calls him the more athletic of the two. An additional 25 pounds of weight packed on since last year won't hurt him on offense, as the home runs attest.
The Wildcats are among this year's GSL favorites. Joslyn is the ace on a five-pitcher staff that includes two other returning starters, Keith Tappe and Mark Purser.
Joslyn and East Valley's Bret Riggin are considered the top two pitchers in league. The Mt. Spokane senior has an 85-mph fastball among his four-pitch repertoire, none of which he's afraid to use.
"I'm probably biased," said Shuerman. "But I think he's a college prospect for a lot of reasons. He's academically sound. He's the baseball equivalent of a gym rat. He's really fast, too, and that aspect could propel him. He can pitch, hit and play defense."
Joslyn already has offers from smaller colleges on the East Coast. Armed with academic scholarship money and a desire to major in chemical engineering, he could be attractive to local Division I programs.
He could also follow his brother's footsteps and spend two years at CBC with time to physically mature before moving on.
"I didn't come into my own as a pitcher until the summer of my sophomore year," Cameron said. "I'm a year or two behind most kids physically."
Having benefited from watching Kevin play in college, Cameron knows that is part of what it takes to play at that level. Playing college baseball is definitely on his mind.
Local journalism is essential.
Give directly to The Spokesman-Review's Northwest Passages community forums series -- which helps to offset the costs of several reporter and editor positions at the newspaper -- by using the easy options below. Gifts processed in this system are not tax deductible, but are predominately used to help meet the local financial requirements needed to receive national matching-grant funds.
Subscribe to the sports newsletter
Get the day's top sports headlines and breaking news delivered to your inbox by subscribing here.
---