News > Features
Group brings Irish sounds, and a whole lotta soul
Thu., March 31, 2005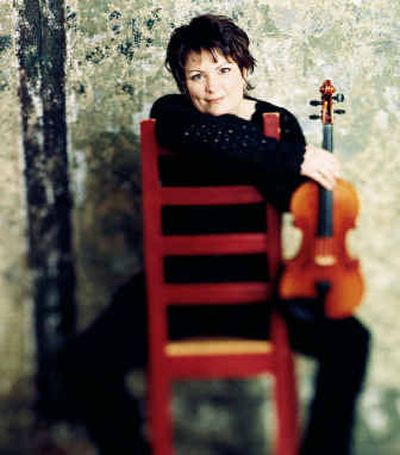 The concept behind the musical act Eileen Ivers & Immigrant Soul is simple: Take one nearly irresistible musical style (Irish fiddling) and combine it with another nearly irresistible musical style (African drumming).
The result is irresist … well, let's just say it's very, very difficult to withstand.
Eileen Ivers & Immigrant Soul arrives at The Met on Saturday in a concert sponsored by (but not including) the Spokane Symphony. This will be a full evening of Ivers, the former "Riverdance" star fiddler, and her four-piece band, equal parts Irish and African.
Ivers still remembers the moment it occurred to her that these two traditional styles were made for each other.
"I was playing at a world music festival and we were walking in back of this huge tent and we could hear this African drumming ensemble," she said by phone from her New York home.
"The music was all drumming, all hand-drumming, and I could hear jigs and reels floating on top very effortlessly. I was shocked. You could have knocked me over with a feather."
She started performing with one of the ensemble members soon afterward. Just as she suspected, the African rhythms proved to be a natural background for Irish music.
"The way (African and Latin) music swings is exactly the way an Irish traditional player swings," Ivers said.
In 1999, she put together a band and found out that she wasn't the only one who liked the combination.
"Audiences caught it right away," she said. "It makes the music a little more accessible."
Now, Ivers & Immigrant Soul play more than 100 dates a year at concert halls and festivals all over the United States and Europe. Their self-titled CD on the Koch Records label has shown up on the World Music charts.
That CD has a cut titled "Paddy In Zululand" which sums up the basic formula.
However, Ivers said Immigrant Soul embraces several other cultures as well. It's easy to hear some Latin influences, some flamenco and even some Appalachian and country influences.
"We do American roots music," she said. "We usually end the show with 'Will the Circle Be Unbroken.' "
Those who simply want to hear some top-quality Irish fiddling won't be disappointed either.
Ivers, the daughter of Irish immigrant parents, grew up playing Irish traditional music at home in the Bronx and on frequent trips back to Ireland. She won nine All-Ireland Fiddle Championships, and rounded it off with a 10th championship on the tenor banjo.
"This music is a gift that has been passed through the generations," she said.
After getting a mathematics degree from Iona College, she became the featured fiddler in the original company of "Riverdance" from 1995 to 1998.
"I ran around the stage with an electric blue wireless fiddle," she said. "It was a thrilling experience."
Since then, she has also been a member of Cherish the Ladies, a touring Irish show, and Fiddler's Three, in which she performed with classical violinist Nadja Salerno-Sonnenberg and jazz violinist Regina Carter.
Local journalism is essential.
Give directly to The Spokesman-Review's Northwest Passages community forums series -- which helps to offset the costs of several reporter and editor positions at the newspaper -- by using the easy options below. Gifts processed in this system are not tax deductible, but are predominately used to help meet the local financial requirements needed to receive national matching-grant funds.
Subscribe now to get breaking news alerts in your email inbox
Get breaking news delivered to your inbox as it happens.
---