News > Business
More car buyers are 'upside down'
Thu., March 31, 2005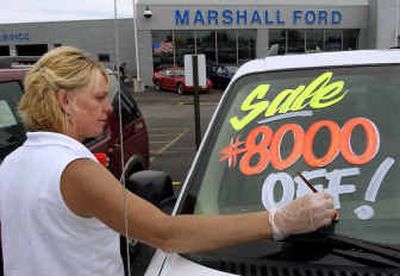 NEW YORK — A growing number of new car buyers are finding they owe more on their existing car loans than the vehicles are worth as trade-ins.
The phenomenon, known as being "upside down" on a loan, is the result of a confluence of changes in the way Americans buy and finance their vehicles.
To begin with, the prices of new cars and trucks have been held down as manufacturers offer incentives and rebates to lure purchasers. As new car prices flatten, so do resale values. Buyers, meanwhile, are choosing increasingly longer-term loans, sometimes extended over 84 months, to reduce monthly payments.
The result is that a consumer who trades in a car that isn't fully paid for can end up wrapping the loan hangover into the financing for a new car, greatly increasing the cost. Or, if a car is destroyed in an accident before it's paid off, the insurance settlement may not fully cover the outstanding loan.
The amounts consumers are upside down are substantial, experts say.
"More than a quarter of buyers are upside down when they come in, and the average is nearly $3,800," said Bob Kurilko, a vice president with Edmunds.com Inc., an auto information publishing company based in Santa Monica, Calif.
This loan overhang has implications for both trade-ins and insurance recovery, he pointed out.
Here's the math: Say a consumer buys a $25,000 car and begins making payments of about $500 a month, based on a 6 percent interest rate. A tree blows over in a storm, flattening the vehicle. The insurance company agrees to pay, but values the car at just $22,000; the consumer is still on the hook to the finance company for $3,000 more, which must be paid out of pocket.
Scott Jones, 43, a New York free lance photographer, said he was aware of the risk of becoming upside down on a car loan when he went shopping for a new vehicle last spring.
"I read about it on some of the Web sites, and I tried to shop carefully to avoid that trap," Jones said. His strategy, he said, was "to buy a reliable car and pay it off as soon as possible."
Jones' choice of a vehicle was a Honda Odyssey minivan, which he believes will hold its value better than some other vehicles. He made a cash down payment to reduce the size of his loan, and then financed the balance over six years, though he said he may try to pay it off earlier than that.
"I figure I'll be driving it for at least 10 years — long after the loan is finished," Jones said.
Brian Reed, a vice president at Capital One Auto Finance, based in Plano, Texas, said a major contributor to the problem is that consumers have sought longer loans to hold down their monthly payments.
"In the late 1970s and early '80s, most loans were for 36 months," Reed said. "Now, the average term is about 58 months, and some lenders go as long as 72 months or 84 months."
Local journalism is essential.
Give directly to The Spokesman-Review's Northwest Passages community forums series -- which helps to offset the costs of several reporter and editor positions at the newspaper -- by using the easy options below. Gifts processed in this system are not tax deductible, but are predominately used to help meet the local financial requirements needed to receive national matching-grant funds.
Subscribe now to get breaking news alerts in your email inbox
Get breaking news delivered to your inbox as it happens.
---