News > Spokane
Mosquito tax chance to bite back
Thu., March 31, 2005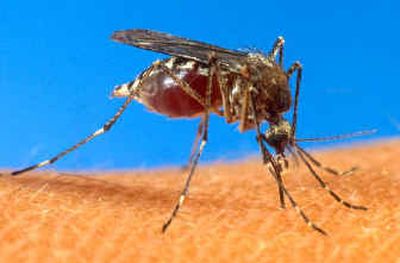 They take a real bite out of enjoying summer, but are you willing to pay to kill the blood-thirsty pests?
Spokane County Health Officer Dr. Kim Thorburn wants the county to create a new mosquito control district, which would have taxing authority and the ability to target mosquito breeding grounds on private property. Thorburn will make a presentation to the Spokane County commission today, and would like commissioners to put creation of the district to a vote of the people.
"We're concerned about West Nile virus," said Thorburn. "Washington so far has not had a human case, but there was a center of activity around La Grande, Ore., during the last mosquito season. And that's darned close."
Since 2003, more than 12,300 people have contracted West Nile Virus, according to the U.S. Centers for Disease Control and Prevention. Of those cases, 352 were fatal.
The virus is spread from birds to humans via mosquito bites.
Washington is the only state in the lower 48 where no human cases have been reported. Oregon had three human cases last year, as did Idaho, where the Panhandle Health District reports there are no mosquito control districts in the five northern counties.
Thorburn, though, spent two weeks in the hospital in 2003 while suffering a rare nerve disorder that she attributes to being bitten by a mosquito infested with West Nile virus while visiting Ohio. One test of Thorburn's blood showed positive for the virus, but another – the one used by the state to determine official cases – was negative.
Most people infected by West Nile virus show no symptoms, but some experience fever, headaches, nausea and vomiting within three to 14 days after being infected. According to the CDC, one in 150 people develops serious symptoms, like neck stiffness, stupor, high fever, vision loss and convulsions.
A local mosquito control district would be empowered to put mosquito larvicide into water on private properties breeding mosquitoes – with or without the property owners' permission.
The larvicide is bacteria that kill only mosquito larvae, Thorburn said, adding that there aren't the same environmental issues associated with its use as with sprays used in the past to kill mosquitoes.
Killing the larvae, or eliminating the standing water they grow in, is much more efficient than spraying for adult mosquitoes anyway, said Jim Thompson, who oversees a Grant County mosquito control district near Moses Lake.
"The first and foremost best method is source reduction," Thompson said. "If you don't have the source, you don't have mosquitoes, and that can be anything from a tin can to a tire."
The Grant County mosquito district was formed in 1958, shortly after the completion of the local irrigation district.
"Once they finished the irrigation district in 1955, the mosquito population just exploded, and there were several deaths from sleeping sickness," he said.
Clark County also focuses on killing larvae rather than spraying for adults, said Dick Engstrom, Clark County's mosquito control administrator.
A Spokane County mosquito control district would require a public vote because it would be funded by a local levy. There's no word yet on exactly what it would cost.
In Thompson's 975-square-mile mosquito control district near Moses Lake, the budget is $920,000 per year with an annual levy of about $50 for a $100,000 home.
Clark County's mosquito control budget, however, is just $268,000 per year with a levy of about $1 on a $100,000 home.
It's too late to get a Spokane County mosquito control district ready for this year's mosquito season, but it could be ready by next year, Thorburn said.
In the meantime, people can protect themselves by wearing insect repellent containing DEET, and eliminating mosquito breeding areas on their property.
Birdbaths and other sources of standing water should be emptied or changed at least once a week.
Local journalism is essential.
Give directly to The Spokesman-Review's Northwest Passages community forums series -- which helps to offset the costs of several reporter and editor positions at the newspaper -- by using the easy options below. Gifts processed in this system are not tax deductible, but are predominately used to help meet the local financial requirements needed to receive national matching-grant funds.
Subscribe now to get breaking news alerts in your email inbox
Get breaking news delivered to your inbox as it happens.
---