Sports
Parker steps in for ailing Duncan, handing setback to Seattle
Thu., March 31, 2005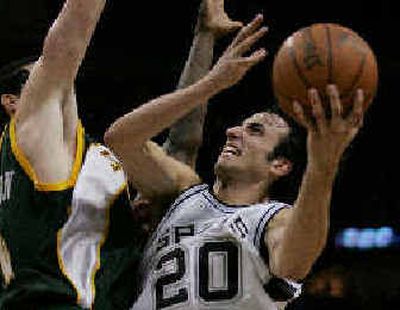 SAN ANTONIO — The San Antonio Spurs can score inside even without Tim Duncan.
Led by Tony Parker, the Spurs scored their first dozen baskets in the paint in their 89-76 win over Northwest Division-leading Seattle on Wednesday night.
Parker finished with 28 points, 16 coming within a few feet of the hoop, and said he wasn't happy with his 11-point, 5-for-13 performance in San Antonio's previous outing, an 83-70 home win over Houston.
"I just wanted to be more aggressive with my shot tonight," Parker said.
Spurs coach Gregg Popovich said Parker did a good job of running the offense and involving backcourt partner Manu Ginobili.
"(Parker) was the real juice for us," Popovich said. "Manu is Manu every night and competed to the nth degree. Together they gave us what we needed."
Ginobili had 15 points for the Spurs, whose 34th home victory matched the team record.
San Antonio improved its record to 3-2 since Duncan went on the injured list with a right ankle sprain suffered March 20 in Detroit. Seattle played a second straight game without Rashard Lewis (right foot bruise), and Danny Fortson was out with a right ankle sprain.
"Missing Danny Fortson was big for us," said the Sonics' Ray Allen, who scored 14 points on 6-for-17 shooting. "With him if Tony Parker is driving down that lane, Danny puts him on his butt."
San Antonio let a 20-point lead after three quarters dwindle to 10 before shutting down the Sonics.
A three-point play by Ronald Murray midway through the fourth quarter cut the Spurs' lead to 75-65. Parker then made two free throws and a layup, and Brent Barry tipped in his own missed layup to put San Antonio back up by 16 points with about 4 minutes left.
Seattle coach Nate McMillan soon sat down Allen, who was pestered all night by Bruce Bowen, and the SuperSonics didn't threaten again.
Murray scored 13 points of his team-high 17 points in the fourth quarter, and Nick Collison, Antonio Daniels and Damien Wilkins each added 11 points for Seattle.
The Spurs established themselves at the opening tip, when Ginobili grabbed the ball and took it in for a spinning reverse layup.
San Antonio used its inside scoring to quickly built a double-digit lead, while on defense the Spurs confined Seattle's offense to the perimeter. Seattle shot 6 for 19 in the first period, with only six of its 18 points coming inside.
"We didn't control the middle — we didn't control anyone in the paint," McMillan said. "You can't wait to be more aggressive and dig yourself a hole like we did tonight."
An 11-foot baseline jumper by Vitaly Potapenko capped a 9-0 Seattle run early in the second that cut the Spurs' lead to 31-27. Ginobili then isolated on rookie Wilkins and beat him with a driving layup to start a 16-4 burst for San Antonio, which led 51-35 at halftime.
Parker led all scorers with 16 at the break on 7-for-10 shooting.
Notes
San Antonio signed guard Dion Glover to a second 10-day contract. He scored two points in 10 minutes. … Seattle's Luke Ridnour, who had averaged 14.2 points in his last five games, scored two points on 1-for-7 shooting. … The SuperSonics recorded a season-low seven assists. Their previous low was 10 in December, also in San Antonio.
Local journalism is essential.
Give directly to The Spokesman-Review's Northwest Passages community forums series -- which helps to offset the costs of several reporter and editor positions at the newspaper -- by using the easy options below. Gifts processed in this system are not tax deductible, but are predominately used to help meet the local financial requirements needed to receive national matching-grant funds.
Subscribe to the sports newsletter
Get the day's top sports headlines and breaking news delivered to your inbox by subscribing here.
---