Sports
Don"t expect Boggs to fill Hall"s glove compartment
Wed., May 4, 2005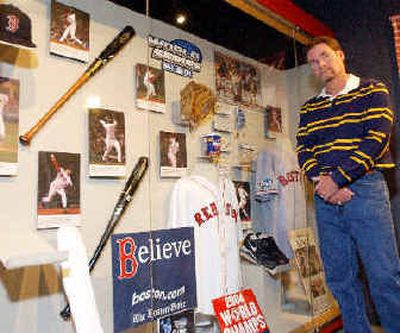 COOPERSTOWN, N.Y. – Wade Boggs has given the Hall of Fame several items celebrating his 3,010 hits and five American League batting titles.
But the former Boston Red Sox, New York Yankees and Tampa Bay Devil Rays hit man still can't part with his game glove. Maybe that's why Boggs made it all the way to Cooperstown.
For all his hitting skill, Boggs willed himself into a complete ballplayer.
"I always loved to hit, that was never an issue," said Boggs, who took his Hall of Fame orientation tour on Tuesday in preparation for his July 31 induction. "But I always hated hearing: 'He's a good hitter but not a defensive third baseman.'
"The only way you can get a label as a complete ballplayer is to go to out and win a Gold Glove."
Boggs did just that, taking home the honor as the American League's top fielding third baseman in both 1994 and 1995. Boggs affectionately refers to the leather he used at third base as "The Elephant Ear" – a floppy glove he had for 15 years and promised to bring to Cooperstown on this trip.
But Boggs – never one to miss any details – forgot the glove.
"That's the only thing I'm giving the Hall," Boggs said. "It's a little old, but that probably is my prize possession. I'll send it up by courier and have it registered."
But given Boggs' pride in his defense, Hall officials may not want to catalog their newest artifact just yet.
The 46-year-old Boggs was elected to the Hall in his first year of eligibility in January, drawing 91.9 percent of the vote from the Baseball Writers Association of America. He hit .328 in his 18-year big league career, appearing in 12 All-Star Games and reaching the 200-hit plateau in seven straight seasons.
But while he was an immediate sensation with his bat, Boggs had to work diligently on his defense. It wasn't until his 13th season, as a member of the Yankees in 1994, that Boggs won a Gold Glove, becoming the oldest first-time winner among position players in the process.
"That was the big thing when (Yankees teammate) Don Mattingly called me at 12:30 in the morning and congratulated me on winning the Gold Glove," Boggs said. "I just started crying right there in the middle of my bed.
Boggs and North Central High graduate Ryne Sandberg make up the Class of 2005 at the Hall of Fame, and both were visibly moved by their tours of the Hall. Looking like any other tourist in a blue-and-yellow rugby shirt, jeans and sneakers, Boggs was overwhelmed by the history that surrounded him.
"Walking down where all the plaques are, the goose bumps were just remarkable," Boggs said.
Local journalism is essential.
Give directly to The Spokesman-Review's Northwest Passages community forums series -- which helps to offset the costs of several reporter and editor positions at the newspaper -- by using the easy options below. Gifts processed in this system are not tax deductible, but are predominately used to help meet the local financial requirements needed to receive national matching-grant funds.
Subscribe to the sports newsletter
Get the day's top sports headlines and breaking news delivered to your inbox by subscribing here.
---