News > Idaho
Partners clinic still sees niche to serve uninsured
Fri., May 6, 2005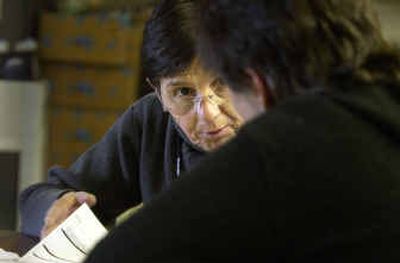 SANDPOINT – A nearly free clinic that serves Bonner County's uninsured residents will stay open this summer even though a federally funded community health clinic for the uninsured will open in Ponderay.
With 27 percent of North Idaho's residents medically uninsured, one clinic can't meet all of Bonner County's health care needs, say advocates for the uninsured.
The new Bonner Regional Community Health Center will reach about 7,000 of the 12,000 uninsured Bonner County residents, said Andrew Bolton, executive director of the new clinic.
"That leaves thousands of people without care," says Lora Cartelli, founder and director of the Bonner Partners in Care nearly free clinic in Sandpoint. Cartelli launched the volunteer-run clinic 22 months ago. "We need lots of safety nets."
Last month, Bolton received a $650,000 federal grant to expand to Bonner County the Boundary Regional Community Health Center he runs in Bonners Ferry. The mission of community health centers is to provide health care to people without insurance.
Cartelli opened Bonner Partners in Care in July 2003 to reach the same population. The Partners clinic offers medical care every Tuesday evening. Patients pay $1 to $10 per visit, depending on finances. The clinic gives patients vouchers to see specialists. Bonner General Hospital offers clinic patients free lab work. Cartelli works with 40 pharmaceutical companies to cut medication costs for clinic patients.
A volunteer doctor and nurse practitioner see an average of 10 patients each Tuesday in exam rooms that the Panhandle Health District lets the clinic use after business hours. But demand is higher than Partners in Care can meet.
"We need to open a second night," Cartelli says.
Cartelli and her board of directors celebrated the news about the new federally funded clinic coming to Bonner County. Community clinics start with primary care – basic medical treatment for problems such as colds, aches, rashes and heart palpitations. During the second year of operation, they add mental health counseling. Dental services are added in the third year.
"Dental is a big need. That will be a blessing," Cartelli says.
Community clinics focus on the uninsured and charge fees on a sliding scale based on income. They also treat people with insurance, Medicare and Medicaid. In fact, the clinics need insured patients to balance their budgets. From September 2004 to February 2005, the Boundary Regional Community Health Center had 7,412 patient visits. Of those, 28 percent involved uninsured patients. The rest had Medicare, Medicaid or private insurance.
Such breakdowns are common. The Dirne Community Health Center in Coeur d'Alene had about 20,000 patient visits in its first year, which ended in March. About a third of those patients were uninsured, says Joel Hughes, center director.
Dirne has yet to balance its budget. Its federal grant covers care for about 6,500 uninsured people a year. But 25,000 Kootenai County residents are uninsured. Community clinics are under a mandate to turn no one away because of inability to pay. So Dirne accepts all uninsured patients and runs out of time and resources for patients with insurance who could help the clinic's budget.
"If we see more uninsured than the grant covers, then we have to fund those visits with other means," Hughes says.
Kootenai County has no other health care services for the uninsured, so Dirne has nowhere to send its overflow. But the Bonner Regional Community Health Center will have Partners in Care to help with the uninsured, and Hughes is a bit envious.
"It seems like a good opportunity," he says. "We don't have that luxury."
The Partners clinic will continue to serve as a first stop for many uninsured people who haven't seen a doctor in years, says Karen Cotton, who's funded by a grant to find health care for North Idaho's uninsured. The community health center will offer continuing care.
"The Partners clinic goal is to hook up people with a medical home. It never wanted to be a medical home," Cotton says. "The community health center is a full clinic that can offer the long-term care."
Partners' volunteer staff understands the clinic is a vital link in Bonner County's health care chain, but the community doesn't, say clinic board members.
"There's a public perception that this is not needed anymore," says Natalie Ednie, president of Partners' board of directors.
Partners exists on community grants, donations and volunteers.
"The community clinic will have federal funding. We're reliant on community support," says Brenda Hammond, a board member. "We need people to know we want to continue to be here."
Local journalism is essential.
Give directly to The Spokesman-Review's Northwest Passages community forums series -- which helps to offset the costs of several reporter and editor positions at the newspaper -- by using the easy options below. Gifts processed in this system are not tax deductible, but are predominately used to help meet the local financial requirements needed to receive national matching-grant funds.
Subscribe now to get breaking news alerts in your email inbox
Get breaking news delivered to your inbox as it happens.
---